Boom Arts Presents Jogging / جوغينغ @ Portland Center Stage: Ellen Bye Studio | Written and Performed by Acclaimed Lebanese Artist Hanane Haj Ali
From our sponsors: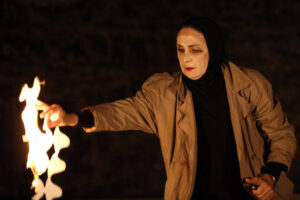 Boom Arts Presents Jogging / جوغينغ
October 19-22, 2023
7:30pm (October 22 at 2pm)
$20-$50 | All Ages
More info: boomarts.org
Tickets: app.arts-people.com
Portland Center Stage: Ellen Bye Studio
148 NW 11th ave, Portland
Boom Arts' 2023-24 Season will open with "Jogging", an immersive solo performance by internationally acclaimed Lebanese actress Hanane Hajj Ali. Inspired by Hanane's daily runs through Beirut, Jogging takes the audience on a gloriously unpredictable journey through place, identity, and mythology. This will be the west coast premiere of "Jogging" which has toured all over the Middle East, Asia, Europe, and has been presented by the Kennedy Center and Guthrie Theater in the U.S.
The story is told through the eyes of Hanane on her daily jogging route through Beirut, Lebanon as she sees the city with new eyes "Beirut is a part of my life. Two things help me survive: theatre and jogging. When I walk in this city in wild transformation, ideas come to me" says Hanane. In this darkly humorous performance, Hajj Ali inhabits and tells the stories of herself; Medea of Ancient ; and contemporary Lebanese women. As she jogs, she considers the city's history of building and destruction and thinks about her roles as a woman,her dreams and her desires. Jogging is performed in Arabic with English surtitles.
Born in Lebanon, Hajj Ali is a prominent figure in the cultural and artistic scene in the Arab region. Her career started in 1978 as a founding member of the Hakawati Theater, and she has performed in prestigious international theaters and festivals. She received the Vertebra Prize for Best Actor at the Edinburgh Fringe Festival in 2017 and the Gilder/Coigney Award, presented by the League of Professional Theatre Women, in 2020.