Boom Arts Presents The Acting Out Festival | Free Outdoor Performances Held Across the City
From our sponsors: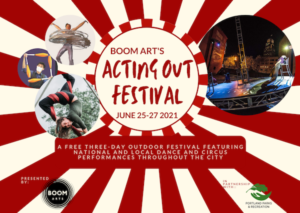 Boom Arts presents The Acting Out Festival
June 25-27, 2021
More info: boomarts.org
Boom Arts presents A NEW three-day, free outdoor festival featuring dance, circus, and interactive art activities popping up at parks all over the city!
Headlining the festival will be the stunning aerial dance work from Flyaway productions in San Francisco, The Wait Room. Engaging the ideas of waiting and weighting, THE WAIT ROOM blends oral history, apparatus-based dance, original music and public art in an exploration of the physical, psychic and emotional burdens of prison for women with incarcerated loved ones. The Wait Room will play at 5pm June 26-28 at the Zidell Yards. The events will include discussions with the artists and local activists and organizations working with those impacted by incarceration. Due to limited capacity at this venue advanced pay-what-you-can reservations are required.
The weekend will also feature a double bill of afternoon family friendly performances at noon on Saturday, June 25th and Sunday, June 26th in multiple Portland Parks. Featuring California based Award-winning circus comedians (along with their dog), Coventry & Kaluza, present the Kaluza Circus showcasing a variety of skills and thrills which features juggling, hula hooping, music and plenty of ridiculousness. Also, local company The Circus Project will perform their new show Party of One, a theatrical circus production inspired by how we find connection alone, and together-but-apart during a pandemic. Please note due to current park policy these will be unadvertised pop-up performances for those already in the park.
In addition to these great performances, the festival will offer free youth workshops from our festival artists for local youth in partnership with Portland Park's Lunch and Play program. Throughout the festival, 2D4D will be engaging audience members in a collective chalk art creation to reflect on the past year capturing their experiences, well being, and hopes as the city reopens.