Boedecker Cellars Winery Features Chilled White & Rosé in NW Portland | Reservations, Huge Outdoor Space, Delivery
From our sponsors: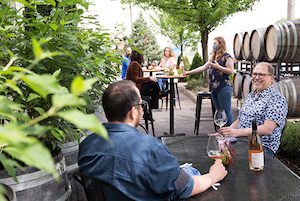 Boedecker Cellars Winery
Wednesday – Sunday 2-7 PM
Reservations: boedeckercellars.com
Shop online and use code ThankYouPDX for 10% off
Location: 2621 NW 30th Ave Portland OR 97210
Cool off in August with a chilled white or tasty rosé at Boedecker Cellars Winery. Try their tasting flight — which includes our new Still Life Brut Rosé — or just drop in for a glass of your favorite.
Free delivery in the Portland metro area.
They're keeping it safe and comfortable in NW Portland. With practically unlimited outdoor space and 2000 sf of winery space dedicated to physically distanced seated tastings. We even have face masks and face shields available for purchase! Call to make a reservation (503-224-5778), make a reservation on our website – we're limiting parties to 4 people per table, or take a chance and come by, we're rarely crowded – and that's how we'll remain!