Bodyvox Presents Pearl Dive Live | Featuring Collaborators Matt Groening, Poison Waters & More!
From our sponsors: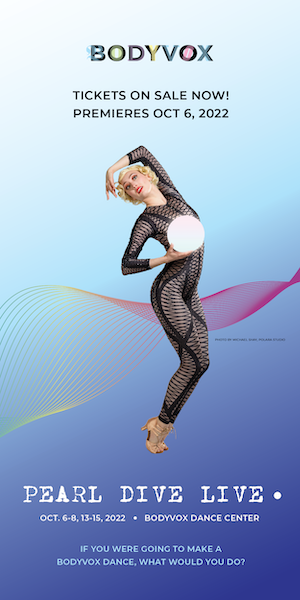 Pearl Dive Live
October 6-8, 13-15, 2022
7:30PM | Starts at $25
2PM Show October 15
More info: bodyvox.com
BodyVox
1201 NW 17th Ave.
Portland, OR 97209
What happens when artists and innovators working at the peak of their profession immerse themselves in a craft they've never considered? During the global COVID shut down, BODYVOX Artistic Directors Jamey Hampton and Ashley Roland made five films, most of them via Zoom, with a new group of highly creative individuals who have never choreographed before.
In Pearl Dive Live, we are taking those filmed episodes and staging them as live productions. Pearl Dive Live melds creative worlds in a collaboration of movement and ideas, the likes of which have never been seen. We are throwing artists who are not choreographers into the creative waters and helping them come out with pearls.
Featuring collaborators Matt Groening, Poison Waters, Ludovico Einaudi, Lois Greenfield, and Yiyun Li.