2023 BeerQuest Eastside Haunted Pub Tour | Murder, Ghosts + Grave Robbers
From our sponsors: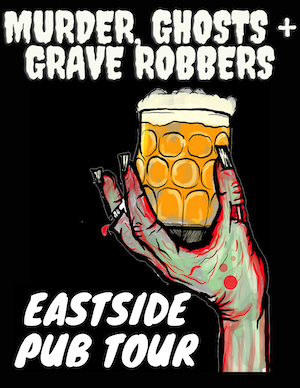 Eastside Haunted Pub Tour – Murder, Ghosts + Grave Robbers
October 2023
Thursdays, Fridays, Saturday & Sundays
$25 – $30 | Book in Advance* (Tour Sells out)
Tickets: beerquestpdx.com
Starts @ Barley Mill Pub
1629 SE Hawthorne Blvd, Portland, OR 97214
Get into #spookyseason with stories from Portland's wicked and lawless past. This 2-hour walking pub tour unravels the mysteries behind several sensational murders that gripped Portland during the late 1800s. Tour guides bring back to life these stories and other spine-tingling tales that dominated the headlines of the Oregonian and captivated the city. Skip the cheap thrills and come experience real life, true stories of Portland's past. Stories include sensational murders, the Hawthorne Asylum, cemeteries, the "demon child," ghosts, hauntings, shanghaiing and Portland's most notorious grave robbers.
The walking tour stops at two local pubs for stories. During the tour, guests have the opportunity to purchase their preferred alcoholic or non-alcoholic beverages. The tour starts at McMenamins Barley Mill Pub and ends at Lucky Lab Brewing.
This tour is a limited run tour for October and due to limited space is likely to sell out. Tickets are $25 – $30 per person. Tours are Thursdays – Sunday starting at 6PM or 6:30PM. No dogs allowed, under 21 allowed with parents only.
Get in the Halloween spirit and Sign up today at beerquestpdx.com