Bar Crawls Presents Downtown Portland 2022 St. Patrick's Day Bar Crawl | 2 Nights, Drink Specials, 6 Participating Bars
From our sponsors: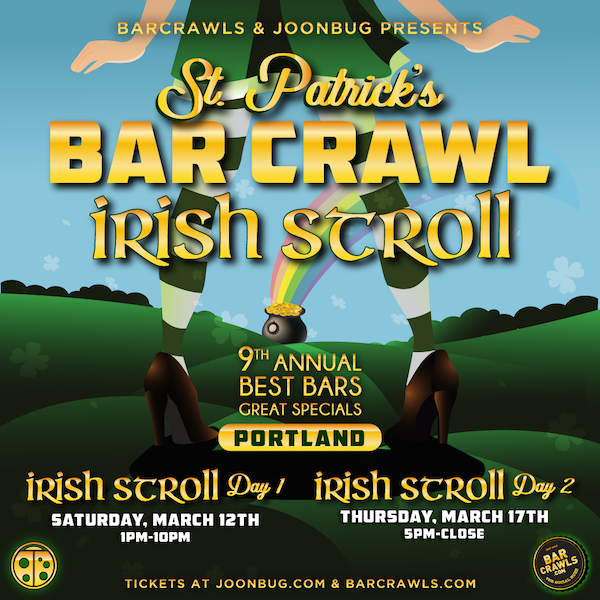 St. Patrick's Day Bar Crawl
March 12, 17, 2022
Saturday: 1-10PM
Thursday: 5PM-Close
More info: barcrawls.com
Ready to get lucky, Portland? Dip into Irish antics in Portland for a two-day bar crawl brought to you all of your favorite bars and venues. Taking place over two days March 12th & 17th, Portland's annual St Patrick's Day Irish Stroll is where you and your friends want to sport your Irish pride this St. Patrick's Day. Every hotspot along the stroll will have exclusive drink specials for you and your friends to take advantage of – which means plenty of opportunity to make St. Pat proud.
Start the shenanigans on Day 1, Saturday, March 12, of this epic 2 Day Irish Stroll filled with golden perks by registering at The Rialto (see details below). Here, you'll receive your wristband and map — then the real adventure begins. Crawl your way over to each bar throughout the day and be met with endless drink specials allowing you and your friends to fuel yourselves on shots of luck and chilly pints. You'll be thanking the luck of the Irish for the cover-free admission and great times.
Take Ireland's favorite pastime on the road for part 2 as you bar hop on Day 2, Thursday, March 17th. This is no mellow extravaganza, so grab your crew and prepare to soak up a night of high spirits and good luck. When it's time to crawl, start at the registration bar, The Rialto to pick up your wristband, map, and Irish goodies.
– Participating Bars List –
The Rialto | REGISTRATION LOCATION | 529 SW 4th Ave, Portland, OR 97204
Jockey Lounge | 401 SW Alder St, Portland, OR 97204
Kit Kat Lounge | 231 SW Ankeny St, Portland, OR 97204
Exotic Lounge | 15 SW 2nd Ave, Portland, OR 97204
Birdie Time Pub | 925 SE Main St, Portland, OR 97214
Jolly Roger | 1340 SE 12th Ave, Portland, OR 97214