2023 Rip City Comedy Festival | Featuring Amy Miller, The Jason Ellis Show, Everyone Hates You & More! Promo Code
From our sponsors: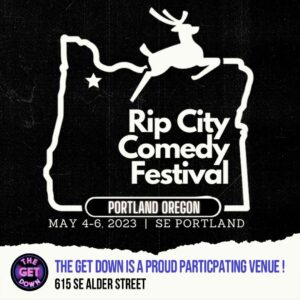 Rip City Comedy Festival
May 4-6, 2023
More info: ripcitycomedyfest.com
(Use code pdxpipeline25 for 25% off your purchase of festival wristband & 3-Day VIP Pass)
The Get Down
615 SE Alder St. Portland, OR 97214
The Rip City Comedy Festival debuts May 4-6th 2023 in Portland's walkable Southeast District with a fun filled weekend featuring headline comics from across the country as well as favorites from throughout the Pacific Northwest.
Featuring a unique variety of themed shows, feature showcases, and free panels from industry leading professionals for all accepted applicants; #RCCF2023 has set out to put a Portland festival back on the map as an inclusive, entertaining, and educational weekend for all.
5/4 @ 7pm – Shake & Jake w/ AJ WIlkerson & Jake Ruble
Fresh off of his tour with Bert Kriescher, AJ Wilkerson returns to Portland, this time he's not alone. Combining powers with best friend, Indiana's own Jake Ruble, the dynamic duo hits the main stage for a night of shakes, rattles, and riffs – supported by some of the best in west coast comedy
5/5 @ 7pm – The Jason Ellis Show (Live at The Get Down)
Beginning as a cult phenomenon in 2005 – quickly gaining the nickname "Radio Fight Club" – The Jason Ellis Show ultimately grew into one of the biggest and most successful phenomena in the history of satellite radio before venturing into the podcast realm. Along the way, the show has spawned the Billboard-charting comedy metal band Taintstick (later known as Death! Death! Die!) and the New York Times bestselling autobiography, "I'm Awesome: One Man's Triumphant Quest to Become the Sweetest Dude Ever." Joined by Mike Tully, Jason Ellis live features special guest Rachel Wolfson (Jackass Forever) and performances from Dan Weber, Devi Kirsch, Nariko Ott and MORE!
Featuring performances by: Kate Murphy, Jamal Coleman, Ben Harkins, Thomas Lundy, and Dylan Jenkins
Amy Miller was one of Comedy Central's "Up Next" comics, and has a brand new Half Hour Special called Ham Mouth on the Comedy Central YouTube channel. As a brand new comic she was a breakout favorite in the final season of Last Comic Standing. She has a half hour comedy special on Epix's Unprotected Sets and her Comedy Central Presents set has been viewed over 3 million times on Youtube and Facebook. She was also a featured comic on Viceland's Flophouse. On Last Comic Standing, Keenen Ivory Wayans said she had one of the "fiercest jokes he had ever heard."
Festival performances by: Bryan Bixby, James Bosquez, Courtney Byrd, Jaren George, Derek Sheen, and Abraham Tadesse
5/5 @ 11:59pm – Everybody Hates You: Comedy Roast Battle
Everyone Hates You is a roast battle hosted by comedians Bryan Bixby and Tory Ward. A fight between people who can't fight. No target is off-limits. Featuring the funniest comics from all around going head-to-head; taking shots and calling names in a raunchy, no-holds-barred insult hour. With roast battles, a roast panel, and roasting audience volunteers, the non-stop barbs offer plenty to satisfy your schadenfreude. Forget everything you learned in sensitivity training.
5/6 @ 6pm – Lance Bangs Presents
Filmmaker Lance Bangs has created an impressive body of work over the years—from Neutral Milk Hotel, Pavement, Nirvana, Elliott Smith, Earl Sweatshirt, Slint, LCD Soundsystem, Arcade Fire, and Sleater-Kinney in the music world; to Jackass, Mr. Show, Dave Chappelle, and a string of standup specials in the comedy world; to personal documentaries with Maurice Sendak, antiretroviral treatment for AIDS in Zambia, and the 2014 theatrically released film BREADCRUMB TRAIL. Tonight, Lance hosts comedians and screens rare footage.
Featuring Performances by: Jordan Casner, Rachel Wolfson, Ruby Setnik, Amy Miller, Shain Brenden
BLAIR SOCCI is a Los Angeles-based comedian whom you may have seen on The Late Late Show with James Corden, MTV, Comedy Central, NBC, TruTV, E!, and Adult Swim. She was recently named one of Variety's Top Ten Comics to Watch in 2022. Blair was also named one of Vulture's "20 Comedians You Should Know in 2020". Additionally, she was a breakout "New Face" at the prestigious 2017 Just For Laughs Festival. Blair was also the co-host of The Trevor Moore Show on Comedy Central and has been seen on Netflix's Q Force, Comedy Central's Fairview, Adult Swim's Hot Future, Good Morning Pickles! on FXX's Cake, and in the Aqua Teen Hunger Force movie.
Featuring performances by: Thomas Lundy, Dylan Jenkins, Adam Pasi and Tori Ward
One of Portland's most beloved shows of all time returns for night only! Alongside renowned pianist and Chicago comedian Ira Novos, Amy Miller hosts a raucous late night showcase that features a diverse range of comedy styles, voices, and drunkenness levels. The show is punctuated with a couple of loosely churchy rituals, like a pre-show greeting/ peace be with you, and confessions from the audience. Midnight Ma$$ has been home to many a storied drop-in, including Norm Macdonald, TJ Miller, and Dave Attell. MM was formerly voted Best Local Comedy Show in the Willamette Week readers' poll.
Scheduled to appear: Curtis Cook, Simon Gibson, Sean Jordan, Shain Brenden, Ricci Armani, Diana Hong, Pallavi Gunalan ….and Super Secret Guests!"
FESTIVAL WRISTBAND PASS (May 4-6) USE PROMO CODE: pdxpipeline25 for 25% off your purchase!)
Guaranteed seating with on time arrival to following shows:
Femmes the Rules – 05.04 Thur 7P @ Rogue Brewing
Reading The Bible w/ Dan – 05.04 Thur 10P @ Funhouse Lounge
Dead Comics Night 1: – 05.05 Fri 7P @ Rogue Brewing
Leave Your Troubles – 05.05 Fri 10P @ Funhouse Lounge
Everyone Hates You Roast Battle – 05.05 Fri 11:59P @ The Get Down
God Save The Scene: – 05.06 Sat 4P @ Helium Comedy Club
Ben and Kate Present the Weird Show – 05.06 Sat 6P @ Rogue Brewing
3-DAY GET DOWN VIP PASS (May 4-6) (USE PROMO CODE: pdxpipeline25 for 25% off your purchase!)
Full Festival Access to all events
Guaranteed priority seating with on time arrival including: AJ Wilkerson's Shake n' Jake, Amy Miller Live, The Jason Ellis Podcast, Lance Bangs Presents, Blair Socci Live, and Midnight Mass Supershow
Limited edition (1 of 200) artwork print signed by artist
Commemorative RCCF Laminate
All benefits of standard wristband