2023 Portland Spring Festival in SE Portland | AAPI Night Market & Music Festival, Free, Food, Games, Giveaways
From our sponsors: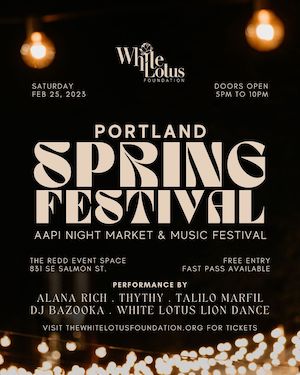 Portland Spring Festival
February 25, 2023
5-10PM | Free Entry | All Ages
More info: thewhitelotusfoundation.org
The Redd Event Space
831 SE Salmon St., Portland
Join us in celebrating the 2023 Portland Spring Festival at the center of SE Portland. Enjoy delicious food and drinks from some of Portland's best Asian American Pacific Islander (AAPI) vendors. We will also be featuring local musical artists and cultural performances throughout the night. Don't miss this opportunity to experience the rich culture and traditions of the Lunar New Year and welcome the Spring season.
What is the Portland Spring Festival?
Also known as Lunar New Year or Chinese New Year, this is the oldest and most important festival in many East Asian countries and communities. This celebration is centered around removing the bad and the old and welcoming the new and the good. It's a time to worship ancestors, exorcize evil spirits and pray for a good harvest It's called the Spring Festival because it marks the beginning of spring and the end of winter. Although this holiday starts on January 22nd, the White Lotus Foundation is dedicating this one-night celebration in late February— signifying the end of a month-long celebration.
At the event, you'll enjoy live entertainment, games for the kids, and an opportunity to meet your favorite local AAPI businesses. Most importantly, this event is FREE to attend — with food, drinks, giveaways, and more. Want to skip the line? Purchase a $10 FAST PASS to get instant access to the event. Limited quantities are available. Get yours today.
PRESENTED BY THE WHITE LOTUS FOUNDATION — See their website to learn more.