2023 Beaverton Night Market | 60+ Vendors, Family Friendly, Cultural Games & Activities & More!
From our sponsors: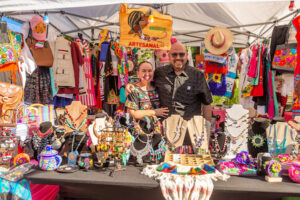 Beaverton Night Market
July 22, August 12, 2023
5-10PM | Free | All Ages
More info: beavertonoregon.gov
Location: The Round @ 12600 SW Crescent St., Beavearton
The 9th annual Beaverton Night Market will be back at The Round, located at 12600 SW Crescent St., just off the Beaverton, Central MAX stop on Saturday, July 22 and Saturday, August 12 from 5 to 10 p.m.
The market will occupy the south side of the plaza and stretch around and up SW Crescent Street in front of the arts center all the way to The Reser plaza. There is no cost to attend the event and vendors are encouraged to keep prices low to make the event accessible for families to enjoy.
More than 60 booths, ranging from more established businesses to those who are vending for the very first time, will share their cultural wares and foods along with performances highlighting cultures across the globe. In addition, attendees can anticipate family-friendly cultural games and activities. We can't wait to see you at Beaverton's biggest and best summer event!
The Beaverton Night Market is hosted by the city's Diversity Advisory Board, which has a primary role in planning and hosting the market each year. The Market exists to create a vibrant, intercultural, family-friendly space that is reminiscent of night markets internationally. The Market offers a culturally relevant evening activity and gathering space with cultural foods and crafts for families of all backgrounds in Beaverton.