The Old Town Beaverton Wine Walk | Sample Local Wines at 9 Unique Downtown Businesses
From our sponsors: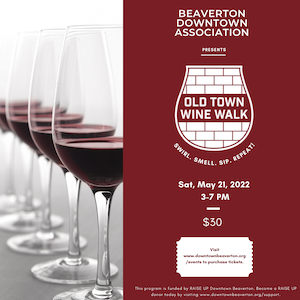 The Old Town Beaverton Wine Walk
May 21, 2022
3-7PM | $30 | 21+
More info: eventbrite.com
Explore downtown Beaverton while sampling local wines inside 9 unique downtown businesses!
The Old Town Beaverton Wine Walk returns! The Tualatin Valley has tons of great wineries, and they are coming to you, right here in downtown Beaverton!
Register now to receive 9 one-ounce wine samples at 9 locations in downtown Beaverton while exploring new and old businesses in the historic district. You may also purchase bottles of wine directly from each winery attending this event.
Small foods will be provided at each location, but we encourage you to visit a downtown restaurant for a meal or drink while you are here!
Locations & Wineries
Beaverton Chiropractic Clinic – Raptor Ridge Winery
dulcederm & Ruby Vineyard
Forager Vintage & La Randonnee Wine
GHM Boutique & Garibaldi Cellars
Global Art of Dance and MVP Dance Elite & Dundee Wine Library
Holistic Health Clinic & Freja Cellars
Jan's & Resolu Cellars
Piano's Now & Parra Wine Co.
Staghorn Mercantile & Shumaker Vineyards