2022 Free Geek Block Party | Soul Food, DJ, Small Business Vendors, Artists, Raffle & More!
From our sponsors: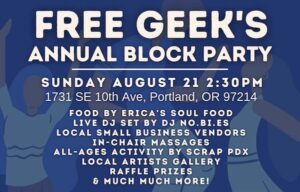 Free Geek Block Party
August 21, 2022
2:30-6:30PM |  Free | All Ages
More info: secure.givelively.org
Free Geek
1731 SE 10th Ave, Portland OR, 97214
Free Geek Hosts Annual Block Party to Raise Funds to Provide Traditionally Underserved Communities Access to Technology
Portland-local nonprofit organization Free Geek is hosting their annual Block Party this August to raise funds to provide Portland Metro Area communities impacted by digital inequality access to computer devices, resources to low cost broadband services and digital literacy programs.
Free Geek is hosting a Block Party on August 21st from 2:30pm-6:30pm at Free Geek Headquarters to provide funds for digitally excluded communities that need access to technology. As technology rapidly evolves and becomes more complex, many communities and individuals can't compete in our digital world. Free Geek's goal is to provide a community event that will both bring the Portland metro area together to reflect on our progress towards a more digitally equitable world, while helping those in our community who still can't afford to connect.
"The Block Party will be a moment for our community to come together and get a first look at the digital equity work we are doing. Our community will also get some insight about our vision for Free Geek's future and engage with other folks who are committed to doing Justice, Equity, Diversity and Inclusion work in Oregon." – Juan M. Muro, Jr., Executive Director.
Back in the early days of Free Geek, there once was a thing called Geek Faire. Since the last Geek Faire, Free Geek has grown tremendously in their efforts to support those who are technologically divided. In acknowledgment of both Geek Faire, and Free Geek's advancements over the years, Free Geek has revamped Geek Faire into Free Geek's Annual Block Party. This Block Party is a free hyper-inclusive event in Southeast Portland featuring a local DJ, a variety of vendors and information tables, locally provided beverages, food by Erica's Soul Food, family friendly interactive activities, raffles & much more!
"Since the pandemic, the number of requests to get computers out to our communities adults and children through our programs like Plug Into Portland and Gift To Geek Box has skyrocketed and we've been able to help more Portlanders than ever due to the incredible support from our community. It's extremely important for us to take some time to celebrate everything that we've overcome as a community through the last two years with the people who have continuously supported us. Our first in-person event in over two years is a hyper inclusive block party for all our supporters and our community at large, featuring the best Portland has to offer," states Dwindell Feeley, Development Manager at Free Geek.
Free Geek Block Party is sponsored by a plethora of incredible Oregon businesses, including but not limited to Presenting Sponsor Intel, AT&T, Jupiter Hotel, Portland Bee Balm, Ground Kontrol, Hollywood Theatre, and Float On. Get ready to sip on some delicious beers by Laurelwood, Mutantis, & Ex Novo, and wines by Macwine Cellars, Apolloni Vineyards, and Cameron Winery while grooving to a local DJ!
"For the past three years, Intel has been proud to support Free Geek's efforts to advance tech equity and help bridge the digital divide in our community. We are so excited to be the presenting sponsor of this impactful event!" – Blake Horner, Oregon Community Engagement Manager at Intel
RSVP here for Free Geek's Annual Block Party. This event is for all ages and open to the public.
About Free Geek
Free Geek is committed to including everyone in our digital future. The Portland-local organization sustainably reuses technology, enables digital access and provides education to create a community that empowers people to realize their potential.