2021 Slabtown Outdoor Market in NW Portland | Fresh Local Produce, Food Trucks, Local Artists
From our sponsors: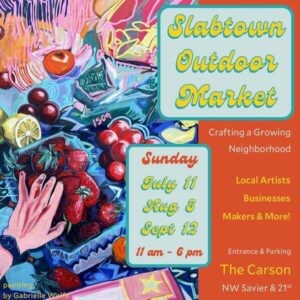 Slabtown Outdoor Market
July 11, Aug. 8, Sept. 12, 2021
11AM-6PM
More info: slabtownoutdoormarket.org
Location: Entrance and Parking at The Carson, NW Savier & 21st, Portland, OR 97210
This monthly event series includes all your local Portland favorites: the butcher, the baker, and the candlestick maker in a brand new location on the west side in partnership with Prometheus Apartments. We are popping up in front of The Carson along NW Savier & 21st street every second Sunday of each month (July 11th, August 8th, and September 12th) from 11AM to 6PM.
Shoppers can buy fresh produce from local farms, enjoy delicious food truck eats, and support businesses recovering from a challenging year. We recognize that our survival, both immediate healing and long term happiness, depends on sharing space and resources. So when you spend money at the Slabtown Outdoor Market, you can also contribute to mutual aid groups in this city who are addressing food insecurity.
It is this combination of artwork, local business, and community involvement that makes this event so dynamic. Nothing gets people into the street like a market and these timeless gatherings will be critical to healing Portland following this historic year. Join us!