2021 Holiday Tea & Dine-In @ Pix Pâtisserie | Sweet & Savory Bites, Spanish Tapas, French Patisserie & More!
From our sponsors: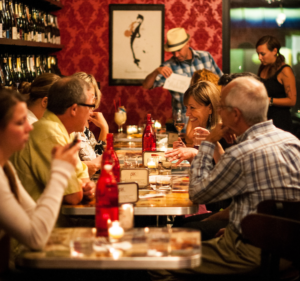 Holiday Tea & Dine-In
December 11-12, 18-23, 2021
Tea Service: 2PM & 3:30PM
Dine-In: 5PM, 6:15PM & 7:30PM
More info: pixpatisserie.com
Pix Pâtisserie
2225 E Burnside St Portland, Oregon 97214
Join your friends, relatives and Pix for a formal (but fun!) holiday tea. This year our tea services will be available for limited indoor seating by reservation and for preorder pickups. The menu includes an adorable selection of sweet and savory bite-sized treats alongside a pot of locally crafted Jasmine Pearl Tea. A vegetarian menu is available.
Dine-in tea services are available December 11th & 12th and December 18th – 23rd with seatings at 2:00PM and 3:30PM.
Takeout tea services come fully prepared and ready to serve on their own decorative tea platter. Simply heat some water for your tea and enjoy! Preordered takeout teas are available for pick up December 11th – 23rd.
$40 per service (plus an 18% gratuity added for all dine-in services.) Each tea service is intended for one individual. Reserve online at pixpatisserie.com/reservations or call us at 971-271-7166.
Limited Dine-in Reservations Now Available!
The Pix / Bar Vivant doors will be open once again in December for a limited number of dine-in reservations. We would like to welcome you back for savory Spanish tapas, French Patisserie and a plethora of sherry, champagne and other tasty beverages from our award winning beverage list (World's Best Champagne and Sparkling Wine List 2021!) Reservations are available on the following dates in December at 5PM, 6:15PM and 7:30PM.
Saturday, December 11th
Sunday, December 12th
Saturday, December 18th
Sunday, December 19th
Reserve online at pixpatisserie.com/reservations or call us at 971-271-7166.