2021 Astoria Warrenton Crab, Seafood & Wine Festival | Virtual Experience, Interactive Demos, Concerts, Vendor Village, Happy Hour Chat & More!
From our sponsors: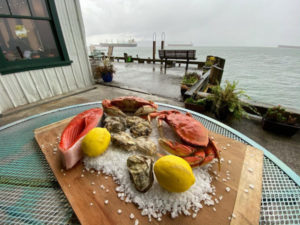 Astoria Warrenton Crab, Seafood & Wine Festival
April 23-25, 2021
More info: astoriacrabfest.com

If you're a regular around here, you know that Astoria and Warrenton traditionally host a very special festival each Spring. We're happy to announce – drumroll, please – that the 39th annual Astoria Warrenton Crab, Seafood & Wine Festival will return April 23-25!
We're making the most of an uncertain situation and choosing to proceed with a virtual experience that will give festival goers the chance to celebrate safely at home while ultimately benefiting the local vendors, businesses, performers and non-profits that bring our communities to life.
Here's what you have to look forward to:
Interactive demonstrations from chefs, artists, and local experts streamed to an online event space
Virtual concerts from notable and fan-favorite musicians
A virtual vendor village to explore booths and chat with wine makers, artists, jewelers and restaurants and more during live festival hours
A Happy Hour chat room open for anyone to mix and mingle
Additionally, from April 23 through May 9 (the kickoff to the Astoria Sunday Market), use the free digital Festival Feast Dining Passport to access exclusive offers and prizes from 20 local restaurants and seafood markets. Locals and visitors alike can still get their festival fix with this limited time offer. Download the pass for free after April 15. At the end of the promotion, we will draw a winner for our grand prize getaway, valued at over $700, which includes an overnight stay at Bowline Hotel (opening summer 2021), a Columbia River Cruises river tour, dinner at Buoy Beer Company, a sampler of Oregon wines and more.
You can find all the participation info you'll need at astoriacrabfest.com. We can't wait to see you at the 39th annual Crab Seafood & Wine Festival!