The Goodfoot Pub & Lounge Hosts Virtual Portland Last Thursday May Art Opening | View & Purchase Art Online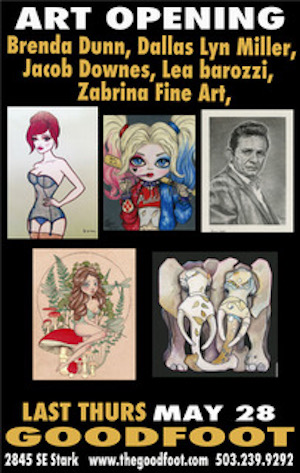 Last Thursday Art Opening
Featuring Brenda Dunn, Lea barozzi, Dallas Lyn Miller, Jacob Downes, Zabrina Fine Art
Art Available to purchase May 28, 2020
All Ages
More info: poboyart.com
The Goodfoot will have an art opening on last Thurs May 28 –  you can view there art online here
This month's artists are Brenda Dunn, Lea barozzi, Dallas Lyn Miller, Jacob Downes, Zabrina Fine Art
Brenda Dunn.
I am a self-taught illustrator based out of Oregon. The mediums used in my illustrations are ink, pencil, and paper.
For my whole life, or as long as I can remember, I have been in awe of women and the beauty they possess. Drawing was a part of my daily life as a child, and the subject matter was always women. Mermaids, princesses, and skater girls were the recurring characters in my art until my late teens, upon the discovery of pinup art from the forties and fifties. Ever since then my art shifted more towards that style, while making it my own. I strive to make art that women can relate to, a more modern and inclusive pinup than that of the older era. In addition to vintage pinup illustration, I take inspiration from burlesque culture, tropical everything, and the clean lines of art deco and art nouveau.
My art is in no form a statement or suggestion that there is any specific look, shape, size, or skin color that makes women beautiful… Beauty comes in all forms.
Dallas Lyn Miller
is an Oregon born artist, self taught by pop culture, adaptability, and tenacity. "My art started when a childhood injury led to being kept in the house for the Summer. Once I started making art and realized what I could do, that became what I was interested in and wanted to do. It developed the voice I have now. It became the playground for my imagination. My interest in fashion and music flourished from wanting to recreate things I saw that inspired me."
These same passions took Dallas to Portland and into a professional career as a makeup artist. "Later, most people were trying to survive a housing crisis. I left a successful job and nearly lost my life. From 2011 to now, my art has been part of what has kept me from running away and joining a circus." He grins and concludes "Being an artist is the balance of nurturing the imagination and fantasy of the inner child while also being able to drive the manager of my talent." Dallas' medium of choice is color pencil. He often cites appreciation for the challenge of color pencil. His goal is to create a dreamlike balance between surrealism and realism "for a modern take on portraits and pop art as if there were no cameras."
One description of Dallas' art that is worthy of sharing comes from his sister-in-law, Reilly Miller. "I think your art provides an escape from the harshness of the world we live in today. It provides a world of color, light and hope. You also get to see a part of you, the artist, in each piece. Whether it be a problem you see in the world or something you feel that is still good in the world, there is always a message to be found if you look for it."
Jacob Downes.
I am a native Oregonian and a queer man that grew up in a sheltered, Pentecostal home. I used escapism as a coping method, which separated me even further from the "secular" world that my parents tried to keep away from me. Sketches and cartoons were a part of my escapism. I later became interested in photography, which brought me to the art department of the community college I studied at.
While I never got my degree from community college, I made several important discoveries. I discovered secular music and musicians who taught self love and love for other humans. I discovered the courage to be honest with who I am and embrace my sexuality and physicality, enough so that I began nude modeling for other artists. Lastly, I discovered figure drawing and the fine arts as an intimate form of expression that fit me better than photography did. My medium of choice are soft, dry pigments, such as charcoal and pastel. I enjoy the often messy means of blending them across the paper, and it works well for me that an eraser isn't just a means of correcting mistakes but is a drawing tool all on its own.
Lea Barozzi
is a local Portland, OR artist whose work has shown all over the world. Her illustrations have been featured on surfboards, skateboards, cd covers, books, jewelry, and apparel. Lea Barozzi's subject matter juxtaposes innocent doll-like maidens with distorted natural imagery and psychological symbolism. When she is not covered in paint, she enjoys exploring the Oregon coast, listening to punk rock, and devouring scifi/fantasy. "The aesthetic world of Lea Barozzi is a purgatorial realm where a living fog sustains a sense of static tension and freezes the emotional states of its subjects in contemplative introspection. It is punctuated by symbolic props that engage the viewer with instant metaphorical recognition and elements of surprise which draw on our love of mystery. It is populated with little maidens and echoes of discarded dolls who are no strangers to loneliness but persevere to find their way in the dark out of the corners they have found themselves painted into."
Lea's art helps us to explore the perils and peace in the isolation we all find ourselves reluctantly enjoying when no one else is there.
Zabrina Fine Art
Portland based artist, Zabrina, began her art studies in Indianapolis in 1997 at Herron School of Art and Design before relocating to Oregon in 1999. Continuing her education at Portland State University, in 2006 she became the first woman in her family to graduate from college, earning a Bachelor of Science with a Major in Painting and Drawing. Her earliest influences are the family of painters and creatives she grew up with, and American contemporary artists Richard Diebenkorn, Jim Dine, and Kiki Smith. Additionally formative were musician Tori Amos and the journals of Anais Nin. Zabrina is primarily an acrylic painter but sometimes incorporates mixed media. She loves to paint animals, love letters, women and other powerful, beautiful, wild things.