Portland Farmers Markets OPEN | Our Plan for a Safe, Healthy Market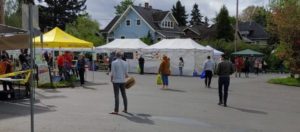 Portland Farmers Market
More info: Portlandfarmersmarket.org
(Updated November 12, 2020)
Portland Farmers Market operates 5 vibrant farmers markets that contribute to the success of local food growers and producers, strengthen the food economy and serve as community gathering places.
Four of our markets are OPEN with the following health and safety guidelines:
Know Before You Go
You can make your shopping trip safer, healthier and more convenient for everyone by keeping the following guidelines in mind:
A mask or face covering is required to enter the market. Medical exemptions will be honored.
Please send one person from your household to shop.
Please leave pets at home (service animals are welcome).
Maintain 6 feet of physical distance at all times.
If you are sick or have been in contact with a sick person, please stay home.
We have implemented significant measures to help protect the health of our customers, our vendors, and our community. These measures include:
Staff monitoring and limiting capacity of shoppers
More space between vendor booths to encourage social distancing
Personal protective equipment for staff and vendors
All prepared food vendors are take-out only
Hand-washing stations at all entrances and throughout the market
Ground markers to indicate 6-foot spacing in high-traffic areas
Cleaning surfaces with bleach frequently
Pre-bagged produce to eliminate scales and weighing
Separation of food handling and payments
For those who can shop from home and who want access to fresh local food without coming to the market, we have put together a new page to connect you with our vendors and set up deliveries, pickups, and more. Check it out.
We want everyone who has sent us their concerns, comments, and support to know that we hear you. We share your concerns about both public health and continued access to fresh, nutritious food. With your help, we can preserve both of these vital priorities and keep our community safe and healthy.