Part Time
Applications have closed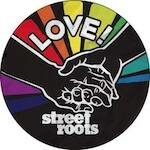 Website streetroots Street Roots
Street Roots is hiring a part-time Executive Assistant to support staff and board directors administrate weekly tasks. This person should be highly organized, detail-oriented and self-motivated with excellent time-management skills, and a keen sense of integrity and responsibility for our mission and values.
HOURS:  10 hours per week (could be variable). Non-Exempt
PAY: $22 /hour
APPLICATION DEADLINE: By Sun. Sept 18, 11:59 p.m.
email executive director Kaia Sand at [email protected] with the subject line "executive assistant."
Please explain why you want this job and what qualifications you bring.
Please attach your resume.
Essential Duties and Responsibilities 
Schedule board meetings (including all committee meetings)
Organize board packet and send out reminder emails and board materials
Provide support on evaluations, job searches and other organizational processes
Occasionally pick up materials such as print jobs
Update website staff and board pages as well as other organizational information (operating hours, etc).
Maintains board documents, working with executive committee
Maintain documents for staff directors, including capital campaign, strategic plan, evaluation processes and hiring outreach. This is mainly google documents, forms and sheets, but will include some other software.*
Supports document retention policy
Maintains master calendar for organization, scheduling all organizational-wide meetings, including staff meetings, board meetings, trainings, retreats, etc
When needed, supports director calendars and communications
Supports operations manager by setting up and managing forms for internal processes
Provides logistical support, scheduling and booking/securing spaces, ordering food, etc.
Other duties as assigned.
* Includes inDesign, Photoshop and Salesforce, which can be learned on the job if necessary
Let them know you found it on PDX Pipeline!