Worksite Developer & Liaison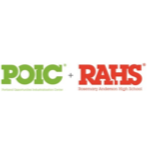 Website POIC + RAHS
*IMPORTANT: To be considered for this position, please follow the Application Instructions at the end of this job posting*
*COVID-19 considerations:
This position is subject to the Oregon Health Authority (OHA) mandate requiring all employees to provide proof of COVID-19 vaccination or qualification for a medical or religious exemption. Failure to do so will disqualify you from employment.
About Us:
Portland Opportunities Industrialization Center + Rosemary Anderson High School (POIC + RAHS) is a minority-led nonprofit 501(c)(3) organization providing the highest quality services in education, mentoring, family outreach, employment training and placement.
Established in 1968, POIC + RAHS has been a beacon for communities of color for over 50 years. Today, POIC + RAHS provides education and direct services to over 700 students and work trainees annually, 80% of whom are Black or Latinx.
 We believe all people have value.
 We believe all people can grow.
 We believe all people can contribute and build thriving communities.
See our website at www.portlandoic.org
Job Summary: This position is responsible for supporting underserved youth on a path to self-sufficiency by providing outreach to local businesses and industry partners to develop and create supported work-based learning opportunities and coordinate work experiences.
Essential Duties:
1.        Outreach to business & community partners to develop work-based training and work experiences for youth
2.       Acts as the Worksite Liaison with worksites and community partners to relay program expectations, support payroll, address concerns, celebrate success, and complete paperwork
3.        Aligns opportunities for youth with high job yielding sectors in the Workforce
Job Duties:
A.     Ensure worksites have completed all program paperwork and are approved to work by Worksystems or the current Employer of Record.
B.     Conduct outreach to businesses and community-based organizations to identify potential worksites meeting eligibility criteria for program participation.
C.    Provide worksite supervisor training, worksite monitoring, supervisor support and position matching services for all worksites.
D.    Communicate participant status and updates with contract Coaching Agencies and potential worksites.
E.     Promptly communicates with Employer of record when key participant employment related issues arise.
F.     Promotes the work experience programs to potential worksites at community events such as job fairs, industry meetings, and networking events.
G.    Proactively communicate and hold regular check-ins with employer worksites.
H.    Coordinate worksite placements and act as intermediary between the worksite and the referring contractor..
I.      Manage data entry for worksites and worksite data (i-trac)
J.     Collaborate with Work Opportunities Training (WOT) team and other POIC departments to deliver services across program sites.
K.     Collaborate with employer partners to develop opportunities for clients of diverse skill levels to obtain work experience.
L.     Maintains punctual, regular, and predictable attendance.
M.    Works collaboratively in a team environment with a spirit of cooperation.
N.    Other duties as assigned.
Qualifications
Ability to perform essential job duties with or without reasonable accommodation and without posing a direct threat to safety or health of employee or others. To perform this job successfully, an individual must be able to perform each essential duty satisfactorily. The requirements listed below are representative of the knowledge, skill, and/or ability required. Reasonable accommodations may be made to enable individuals with disabilities to perform the essential duties.
Experience/Education Requirements:
High School Diploma and one to two years related experience and/or training working with youth, or equivalent combination of education and experience. Proven experience in workforce development and placing clients with multiple barriers in employment. Bachelor's degree preferred.  Familiarity with trauma-informed practice and strength-based approaches to working with clients preferred. Experience working with non-profits and within government-funded systems is preferred.
What We Offer:
POIC + RAHS offers a diverse, equitable and inclusive work environment where everyone has the opportunity to grow. Our compensation and benefits package represent our commitment to employee health and financial wellness.
 Generous vacation/PTO policy
 Employer paid Medical, Dental and Vision benefits
 Employer paid Life and Long Term Disability insurance
 Flexible Spending Account (FSA) option
 403(b) Retirement Plan option
 Twelve paid Holidays per year
 Professional growth and advancement opportunities
Application Instructions:
To be considered for this opportunity, please submit:
Personal Statement that includes:
Why you are interested in working for POIC + RAHS
How your skills and experience relate to this position
What you can contribute to our organization and the youth we serve
Resume
Please send your Personal Statement and Resume to [email protected]ortlandoic.org with the job title in the subject line. Applicants who do not submit a Personal Statement that includes the requested information may be disqualified from consideration for the position.
POIC + RAHS is an equal opportunity employer and will not discriminate against any employee or applicant on the basis of age, color, disability, gender, national origin, race, religion, sexual orientation, veteran status, or any classification protected by federal, state, or local law.
Let them know you found it on PDX Pipeline!