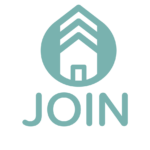 MPSH Retention Worker – Multnomah County
POSITION CLOSES ON SEPTEMBER 26th
Two positions available
JOIN (joinpdx.org) is a non-profit organization that exists to support the efforts of individuals and families experiencing homelessness to transition off the streets and into permanent housing. We are inspired by the vision of a community where everyone has a place to call home.
JOIN has an organizational commitment to equity and inclusion, and to ensure that programs and staff culture are equitable in both access, experience, and outcomes regardless of race, ethnicity, faith, culture, language, disability, gender, gender identity, gender expression, citizenship or immigration status, sexual orientation or family status.
JOIN is committed to pursuing effective strategies and devoting dedicated time and resources at every level of the organization to address disparities based on identity and to apply an equity lens to all decisions, programs, and policies in furthering JOIN's commitment to become an anti-racist organization, including dismantling white supremacy culture.
Position Overview
JOIN is hiring a MPSH Retention Worker. These positions provide long term housing stabilization support for people recently housed by Multnomah County's Coordinated Access for Adults.  JOIN's Permanent Support Housing efforts seek to empower people to maintain permanent, independent housing through acquiring income, promoting physical and emotional health, and building community.  Retention Workers need to be able to build authentic relationships and work effectively with people experiencing homelessness, regardless of their backgrounds, personal histories, household composition, and be willing and able to engage people on the streets, in their homes, in community settings and in our service facility.
Compensation
$46,500
Full Time non-exempt position with option for 100% paid employer paid Health Benefits (medical & dental benefits for employee and all dependents), employer paid Long and Short term disability benefit, employer paid $50,000 life insurance, EAP, Flexible spending accounts for medical and dependent care, unmatched 403(b), holiday pay, 160 hours annual PTO, 8 hours/month paid community involvement opportunity, 2 weeks paid parental leave, 1 week paid bereavement leave, paid trauma leave, and an 8 week paid sabbatical after 7 years of employment.
Essential Duties and Responsibilities
Provide home visits to recently housed people in support of their self-determined housing stability plan.
Coordinate and support referrals to services at partner agencies, including disability benefits acquisition, employment assistance and workforce training.
Provide support and advocacy around households' engagement with physical and mental health resources, Department of Human Services, and the criminal justice system.
Coordinate and/or provide transportation to appointments, interviews, events, and other functions.
Apply principles of harm reduction, trauma-informed care, and strengths-based approach; utilize tools such as ecomapping to assist in these efforts.
Openness to skills development training.
Build and maintain strong relationships with resident services coordinators, property managers and management companies to support housing stability and to create avenues for advocacy when a household's tenancy is at risk.
Coordinate with emergency food providers to obtain and deliver food boxes.
With coordination of housing placement workers, provide delivery of furniture and household goods to newly housed individuals.
Navigate school systems/family resources
Providing Community Support
Plan and implement social events, peer support groups, and community volunteer opportunities for newly housed tenants.
Work with faith-based communities and other community organizations to provide regular community building events.
Commit to actions, political-social engagement as staff and also pursuing opportunities for folks.
Working with Staff  
Work in conjunction with the MPSH collaborative to attend monthly retreats, weekly meetings, manage partner agency relationships, case staff with the team, and manage personal budget allocation in supporting folks.
Meet regularly with MPSH partners to develop ways to support their efforts in helping new tenants retain housing.
Comfort, ability, preparedness to both take lead and sometimes be able to be pulled in.
Support staffing of Dayspace, move-ins, and other organizational activities.
Maintain narrative and required data regarding services provided.
Engage respectfully with all staff and be willing to collaborate, support each other, and approach conflict constructively
Engage in JOIN's equity and anti-racist work at the full-staff, program-specific, and individual professional level.
Apply an equity lens to work with staff, service users, volunteers, donors, and community partners.
 REQUIRED Education, Experience, Qualities, or Specialized Training
Demonstrated respect for the value of diversity and equity; an ability to work with people from all backgrounds in an inclusive and meaningful way. Experience providing culturally specific services is preferred.
Experience building trusting relationships and collaborative efforts with diverse individuals and organizations.
Experience working with people experiencing homelessness or other similar personal challenges.
Commitment to non-violence and holistic responses.
Must be self-motivated and have demonstrated ability to work well in an unstructured, often hectic, team environment.
Ability to work with or learn computer data entry programs and familiarity with Google/Office Suite software.
Maintain accurate and timely records of services provided.
Must own or have access to a personal vehicle for daily use on the job.
Must have a valid driver's license and an insurable driving record upon hire.
Must be able to work occasionally in the evenings and on weekends (approximately twice per month).
Bilingual a plus
Specific physical and mental performing elements:
Ability to lift and carry 50 lbs.; position involves regular moving of furniture into and out of vehicles and apartments.
Equipment use:
Be well versed in using computers, social media and smartphones.
Core Competencies needed / the ability to:
Agree that a commitment to equity and inclusion is fundamental to JOIN's work. Support and contribute to JOIN's goal of becoming an anti-racist organization.
Support a diverse and inclusive environment where all people feel welcomed.
Bring a social justice lens to aspects of the job, internally and externally.
Equal Opportunity Employer
JOIN values the strengths that a diverse workforce offers and is committed to honoring the dignity of every individual. On behalf of the board, staff, and people we serve at JOIN, thank you for your interest in supporting our mission.
JOIN has an organizational commitment to equity and inclusion, and to ensure that programs and staff culture are equitable in both access, experience, and outcomes regardless of race, ethnicity, faith, culture, language, disability, gender, gender identity, gender expression, citizenship or immigration status, sexual orientation or family status
Let them know you found it on PDX Pipeline!