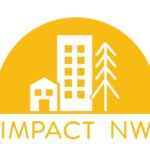 At Impact NW we are a nonprofit with a mission to prevent homelessness, because we believe in the fundamental right to: beautiful life, stability and peace.  More importantly, it also means a life filled with opportunity and community support, especially for Indigenous, Black, Brown, Melanated, Immigrant, and Asian people.
What we seek is for you to share your skill sets – especially if you:
Put people first
See the beauty in people
Promote peace
Find a way 
We believe that with our mission and values as our north star, we can move toward our vision of a future where housing is a human right. If this resonates with you, we'd love to have your purpose and passion on our team at Impact NW.
With you sending in your resume and cover letter  / application ensures that you are doing a part in the quest for "a stronger, more equitable community" in the Portland Metro Area. Our People and Culture Department look forward to hearing from you.
Position: Safe and Together Parent Child Specialist III
Entry Wage: $24.04 with Bilingual Differential.
Hours: 32-40 hrs Full-time (fully benefitted)
JOB SUMMARY: The goals of our program are to reunite families and to prevent future occurrences of foster care placement by keeping children safely at home. Safe & Together believes families can make the changes they want and need to be healthy, happy, and safe when given opportunities and tools that support them.  As a Parent Child Specialist, you will have the opportunity to work with children 0-8 and collaborate with birth parents, foster parents, child welfare workers, and community partners.  Parent Child Specialists work to address the issues that led to the need for intervention and facilitate the transition of the child back to the birth family and toward permanency.
ESSENTIAL JOB RESPONSIBILITIES:
Provide intervention and prevention services for families involved with DHS. 
Collaborate with other relevant providers.
Support families in obtaining goals.
Provide services within the families' home and other community settings.
Complete accurate, legible, and timely documentation.
Participate in training (s) (both internal and external) relevant to the position.
Participate in individual and group supervision.
REQUIREMENTS AND QUALIFICATIONS:
Any combination of work, lived, or training experience that would likely meet the following requirements:
Bachelor's degree or equivalent required and a minimum of four (4) years' experience in human services, social services, or early childhood education, preferably providing direct services to trauma-affected families with young children from diverse communities.
One year experience in providing family support, advocacy, or specialized services for families with infants and toddlers.
Ability to engage and work from a strengths-based perspective with individuals regardless of their race, ethnicity, gender, ability, religion, sexual orientation, or political views.
Ability to work within the office setting, the community and within client's homes.
Ability and willingness to work as a team member to support the program's stated goals.
Ability to communicate effectively, both written and verbally.
Possess strong organizational skills and ability to prioritize multiple and varied tasks while managing time effectively.
Ability to provide professional communications in a variety of settings on behalf of our families and our professional communication in a variety of settings on behalf of our families and our program.
REQUIREMENT
Willingness to get COVID-19 vaccination or show proof if required per organizational policy. 
PREFERRED QUALIFICATIONS:
Bilingual Spanish preferred.
Understanding of the Child Welfare system.
Knowledge of Child Development and/or parent-child curriculum
THIS JOB ALSO REQUIRES THE FOLLOWING PHYSICAL ACTIVITIES:
Ability to efficiently travel to perform duties and other agency related business.
Moderate lifting
Let them know you found it on PDX Pipeline!