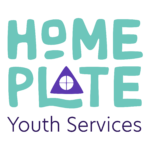 Housing Navigator – HomePlate Youth Services
full time, $25.72/hr , start date ASAP , Application close May 30th, 2023
Find application to apply here
HomePlate, a nonprofit leader in the field of providing services for youth experiencing houselessness in Washington County, is looking for dynamic new members to join our team. HomePlate started in 2005 with $3,000 and a vision of helping youth in houseless and unstably housed situations find stability. Currently, Beaverton has the highest rate of student homelessness in the state of Oregon. With a growing team of staff, we operate youth drop-in, street outreach, and employment services. HomePlate successfully connects 500 at-risk youth with community members each year and together they work towards meeting youth identified education, housing, employment, medical, dental, and other goals.
HomePlate has an organizational commitment to equity and inclusion, and to ensure that programs and staff culture are equitable in both access and outcomes regardless of race, ethnicity, faith, culture, language, disability, gender, gender identity, sexual orientation, or family status. HomePlate is committed to pursuing effective strategies and devoting dedicated time and resources at every level of the organization to address disparities based on identity and to apply an equity lens to all decisions, programs, and policies.
Position Summary
HomePlate is part of a regional effort to provide increased housing support for youth experiencing homelessness and housing insecurity in Washington County. HomePlate's housing program provides comprehensive housing support and equitable housing services in partnership with Washington County. Participants will be connected with the housing program through external and internal referral sources. Participants served are experiencing barriers such as extremely low income, one or more disabling conditions, and who are experiencing or at imminent risk of experiencing long-term or frequent episodes of literal homelessness. The Housing Navigator will provide a consistent demonstration of HomePlate's values and mission in each contact with an unstably housed young person. While HomePlate serves youth ages 12-24, housing navigators focus on housing transitional age youth ages 18-24. Build and nourish mutual relationships, trust and support to promote the strengths and capabilities of young people as we work together to obtain and retain permanent supportive housing.
Essential Duties and Responsibilities
Work with up to 20 youth led households to find and maintain housing in Washington County.
Provide a participant centered approach and excellent customer service that is sensitive to the challenges of homelessness, including medical and behavioral healthissues they face in their efforts to move into and maintain permanent supportive housing
Assist households at every stage of the housing stabilization process includingflexible services to meet the individual needs of participants, resource navigation, relationship building, and help by reducing barriers that households identify
Assist at all levels of move-in to permanent housing; document ready, housing authority applications and other paperwork, coordination of move-in and orient new tenant to their unit/building
Utilize the tools and supports (procedures, workbooks, training, budgets, databases, forms, etc.) needed for service delivery which include but are not limited to:Conduct face to face screening, intake enrollment and home visits
Conduct assessments, develop and implement individualized services plan in collaboration with the participant including needs, goals, steps, timeframes
Ensure access to health, mental health, and substance use disorder services.
Assists participants with establishing a medical providers
Assist with increasing income, job search, increased education, and socialsecurity assistance
Housing education and training support for participants
Creatively breaking down barriers for participants to access housing
Working with property managers as a liaison for support and intervention
Independent living skill-building tailored to participants unfamiliar with being stably housed
Connecting participants to stabilization programming at HomePlate (employment, education, vocational training) and with external organizations
Accurately documenting all services using the Homeless Management
Information Services (HMIS)
Engage in HomePlate's equity and anti-racist work at the full-staff, program-specific, and individual professional levels.
Travel across Washington County to complete needed home visits with youth.
Complete required agency and funder level data, collect and input into various systems (HMIS, Airtable)
Desired Qualifications:
Experience building trusted relationships and collaborative efforts with diverse individuals and organizations
Experience working with young people experiencing homelessness; outreach and local Washington County social service knowledge is a plus
Demonstrated knowledge of street youth population including knowledge of housing, needs, services and systems of care
Strong commitment to "meeting youth where they are"
Experience in the following areas: chronic homelessness, outreach and engagement strategies, housing navigation, best practice models, mental health and substance use disorder services, crisis intervention, suicide assessment and prevention, affordable housing and public benefits applications, housing and landlord/tenant rights, eviction prevention, etc.
Strong organizational and critical thinking skills; ability to organize & prioritize tasks, communicate clearly with team and volunteers both verbal and written
Ability to work effectively with and support others in a team environment and independently
Effective conflict management skills
Positive, encouraging, and assertive communication skills
Welcoming and accepting presence
Ability to pass a criminal background check
Ability to work with or learn computer data entry programs and familiarity with Office Suite software (Word, Excel, etc.). Fluency in social media websites, e.g. Facebook, Twitter, etc.
Energetic, committed, flexible and innovative
Genuine curiosity and interest in all people, good listener
An understanding of the effects of trauma and how it impacts youth
Intermediate competency with computers and basic software is required, including Microsoft Word, Excel, Google Drive, and HMIS or other database systems
Fluency in Spanish or other languages is a plus
Ability to multitask, meet deadlines, and maintain a sense of humor
Passion for ending homelessness
Preferred background in eviction, fair housing and basic tenant landlord rights.
Required Transportation:
Possession of a valid driver's license, clean driving record and reliable transportation required. Vehicle insurance coverage limits must be $100,000 bodily injury liability for one person, $300,000 bodily injury liability for all people in an accident and $100,000 property damage liability.
HomePlate is committed to providing a safe workplace for our staff and to serve as a positive force in ending the COVID 19 pandemic. We believe that requiring vaccinations as a term of your employment serves this commitment. All employees are required to provide proof of COVID-19 vaccination or qualification for a medical or religious exemption. By applying for this position, you represent you currently meet these job requirements. Failure to do so will disqualify you from employment.
HomePlate values diversity in its workforce and is an equal opportunity employer.
QTBIPOC (Queer, Trans, Black, Indigenous, People of color) and/or those with lived experience are encouraged to apply.
Let them know you found it on PDX Pipeline!