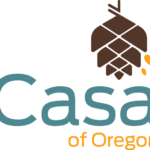 Website CASA of Oregon
Accounting Assistant
Job Description | Accounting Assistant
This position is classified as non- Exempt and Full-Time, reports to the Finance Director and is a union position represented by CWA Local 7901. CASA of Oregon is located in Sherwood, OR.
Starting Salary Range : ($42,000-$48,000)
ORGANIZATIONAL OVERVIEW
CASA of Oregon (CASA) began its work more than 30 years ago by supporting local organizations that provide housing for farmworkers and other populations who have been marginalized in primarily rural areas throughout the state. Today, we enhance economic and housing security for Oregonians in need by working in four key areas:
Manufactured Housing Cooperative Development Center (MHCDC) – We develop and support manufactured-home community resident-cooperatives through organizing, training, and technical assistance. We also support the negotiation and oversight of the purchase and financing.
Real Estate Development (RED) – We partner with local community organizations and nonprofit housing sponsors to increase the stock of—and improve existing—affordable rental housing and community facilities. We serve as a developer, consultant, and technical assistance provider.
Family Economic Opportunity (FEO) – We partner with local agencies to administer Individual Development Accounts (IDAs), which enable individuals and households with limited financial resources to save and build assets at an accelerated pace through a match savings program.
Community Loan Fund (CLF) – We provide financing to support the development and preservation of affordable housing and community facilities. Loans provided include predevelopment, construction, bridge and secondary permanent financing.
EQUITY, DIVERSITY and INCLUSION
As advocates, consultants, organizers, and agents for change, at CASA, we believe that racial equity, diversity and inclusion should manifest at all levels of our programs. Through collaboration, we aim to build hope, homes, and financial health to both heal and strengthen our communities throughout the state of Oregon.
We continually examine our role in perpetuating and combating systems of oppression because we recognize that the communities we serve face many societal inequities. We acknowledge the history and ongoing impacts of racism and inequality in our country, state and institutions, and work to be part of the solution.
We celebrate the identities of all involved with CASA, past and present, and respect the race, ethnicity, ancestry, color, size, (dis)ability, national origin, age, sexual orientation, gender, gender identity, socioeconomic status, geographic location, citizenship status, criminal background, religious background, marital status, military status, strengths and differences of all people.
We acknowledge that we always have room to grow in our understanding of racism and oppression, and we commit ourselves to aligning our policies and practices to advance racial equity, inclusion and freedom of expression.
POSITION OVERVIEW
The principal goal of the Accounting Assistant is to provide bookkeeping, human resources and clerical assistance to the Finance Department.
POSITION SUMMARY
The Accounting Assistant performs monthly and routine accounting and personnel-related tasks, as well as assists the General Ledger Accountant and Finance Director in special projects as directed.
RESPONSIBILITIES
Maintenance of electronic and paper accounting and contract files.
Reconciliation of checking, money market, Certificate of Deposit and other bank accounts.
Monthly investment interest reports.
Preparation, analysis and processing of accounts payable.
Preparation, analysis and processing of accounts receivable.
Assists with monthly IDA match liability reconciliations with accounting and FEO databases.
Assisting Finance Department in special accounting projects and other duties as assigned.
Routine Human Resource Administrative duties, such as Leave Accrual reports.
Other duties as assigned.
QUALIFICATIONS
Education: Associate's Degree in Accounting required; Bachelor Degree in accounting strongly preferred.
Experience:  At least three years of experience with accounts payable, accounts receivable, bank and other reconciliations using computerized accounting system;Knowledge of the various accounting cycles;
Proficiency with spreadsheet and word processing programs;
Ability to work independently.
Knowledge of fund accounting.
Thrives in both independent and team settings
Strong financial analysis skills
Flexible in work schedule which, on occasion, many include evenings or weekends
Comfortable both leading and accepting direction
Adaptable and creative with an ability to think outside the box
WORK ENVIRONMENT
Work is in an indoor, office setting.  Once a week work at office to do check run and other accounts payable duties is required for this position.  (During COVID 19, work shall be from home until it is safe to return to normal office work).
CASA's work culture is inclusive, equitable, and collaborative. CASA makes transparent and shared decisions, and cultivates staff through professional development.
CASA encourages and supports staff involvement in both internal and external committee work during regular work time. Internal committees include: Equity Committee, Health, Safety & Wellness Committee, and Fun Committee.
EMPLOYER OFFERINGS
Paid Medical, Dental, Vision, Life/AD&D and Disability Insurance
Opportunities for Telecommuting
Flexible Work Schedule
Employer Contribution to 401(k) – no match required
Flexible Spending Account (FSA) or Health Savings Account (HSA)
Paid Emergency/Family Medical Leave
Health & Wellness Stipend
Communications (cell phone) Stipend
Paid Holidays (10), Paid Personal Days (2 annually – beginning at 1 year of service), Paid "Celebration Days" (2 annually – available immediately upon hire)
Paid Vacation & Sick Time
Language Pay Differential for language (other than English) used as part of duties
Paid Professional Development & Training
Paid Costco membership
Paid Sabbatical after ten years of service and every five years thereafter
Reduced work hours during "Summer Schedule"
Physical and Sensory Capability Requirements
The following capabilities are required in order to perform the essential functions of this position. Reasonable accommodations that do not create an undue burden on the company are available to address the following requirements:
Ability to: stand, walk, reach with arms and hands, climb or balance, and to stoop, kneel, crouch or crawl;
Maintain sustained concentration on computer screens;
Use keyboards and a variety of computer peripherals;
Must be able to drive both day and night
CASA is an equal opportunity employer. All applicants will be considered for employment regardless of race, color, religion, sex, sexual orientation, gender identity, national origin and veteran or (dis)ability status. CASA of Oregon also complies with federal and state (dis)ability laws and makes reasonable accommodations for applicants and employees with (dis)abilities. If reasonable accommodation is needed to participate in the job application or interview process, to perform essential job functions, and/or to receive other benefits and privileges of employment, please contact Mona Shah at (503)-687-3318 or [email protected] 
Let them know you found it on PDX Pipeline!