Chamber Music Northwest's Poetry in Music Summer Festival | Lyrically Themed Programs Featuring Classical & New Music
From our sponsors: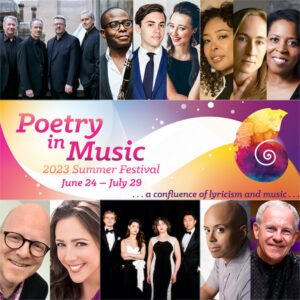 CMNW's Poetry in Music Summer Festival
June 24-July 29, 2023
More info: cmnw.org
This summer, CMNW's Poetry in Music festival illuminates the intimate connection between poetry, storytelling, and chamber music; celebrating the confluence of these art forms with lyrically-themed programs featuring classical repertoire and new music —played by some of the very best musicians in the world!
Music is Poetry, and Poetry is Music. Explore this festival's theme with renowned vocalists Fleur Barron, Susanna Phillips, and Hyunah Yu inhabiting the lyricism of Schubert, Fauré, Robert Schumann, Brahms, and more!
Celebrating America's Greatest String Quartet. After 17 appearances with us over a span of 30 years, the nine-time Grammy Award-winning Emerson Quartet takes their final bows in two glorious concerts!
Musical Masters of Today. This summer, we welcome groundbreaking clarinetist Anthony McGill, the Grammy Award-winning Catalyst Quartet, the mesmerizing Metropolitan Opera soprano Susanna Phillips, acclaimed pianist and composer Stewart Goodyear, and the extraordinary new musician/composer collective, umama womama.
The Greatest Chamber Music Ever Written. Even the best have their best: Bach's soaring Magnificat; Beethoven's cathartic Opus 131; Brahms's supreme Clarinet Quintet and Piano Quartet No. 2; Schubert's sublime The Shepherd on the Rock; Mozart's miraculous Piano Concerto No. 12; Amy Beach's ravishing Piano Quintet; and Robert Schumann's joyous Piano Quintet, just to name a few.
Be In the Room When It Happens! Take your seat to be among the first listeners for the music of the moment—and the artists of the future. We'll premiere 12 new works and explore the music of emerging and leading composers of today, including: Chris Rogerson, Patrick Castillo, Aiden Kane, David Ludwig, Wang Jie, Alistair Coleman, and CMNW Protégé composer, Kian Ravaei.
Plus there's three free outdoor concerts to enjoy! Please consider yourself warmly invited to come celebrate the diversity of classical music with us this summer—let us enliven and expand your musical palette!