Bridgetown Trivia Presents Tournament of Champions | Cash Prizes, Winter & Summer Season
From our sponsors: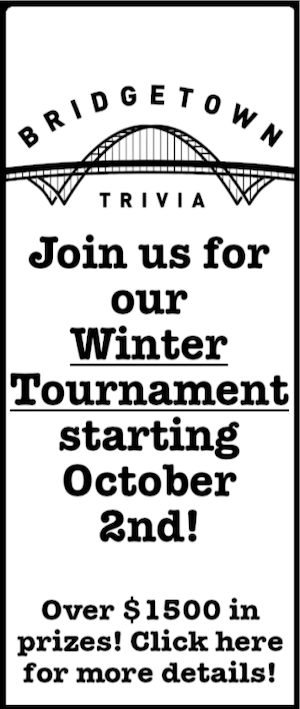 Bridgetown Trivia Tournament of Champions
Summer (April through August)
Winter (October through February)
More info: bridgetowntrivia.com
Every weekly trivia event in the Bridgetown Trivia family participates in the Tournament of Champions, giving players and their teams a chance to win cash and prizes.
The twice yearly Tournament of Champions is a way for you and your team to be rewarded for doing something you love, playing trivia with us! The winning ToC team takes home $1,000 cash!
Our Tournament of Champions contests are held in semi-annual seasons:
—Summer (April through August)
—Winter (October through February)
At the end of each tournament season, there is a one week Semi-Final event at each venue typically during the first full week of September (Summer) or March (Winter).
Each ToC season culminates in a grand single night event – the Tournament of Champions Finals.
Where?
You don't need to tell your host you want to be in the tournament – every team score is entered automatically. Tournament play and Semi-Finals events take place at your home venue during the season. The Finals are held at a specific venue, which will be communicated to the qualifiers beforehand.
Why?
Because you're the most fun trivia players in the city, you deserve the best prizes.
1st Place: $1000 cash
2nd Place: $350 cash
3rd Place: $100 cash
2nd-to-Last Place: $50 cash
…and additional door prizes!
How?
Winning your venue for the season, winning a Free Pass (one game and you're in!), or achieving the "Megascore!" (largest total cumulative points in the season across and including all venues) are all ways to secure a spot for the Tournament of Champions. See our website for more details!