2023 Wooden Shoe Tulip Festival Extended to May 7 | 40 Acres of Flowers, Wine Tasting, Kids Fun, Crafters Marketplace & More!
From our sponsors: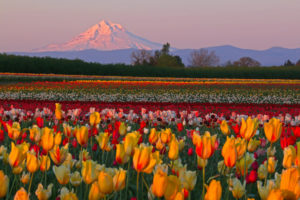 Wooden Shoe Tulip Farm Tulip Fest
March 24-May 7, 2023
Monday through Friday: 9am – 6pm
Saturday and Sunday: 8am – 7pm
Tickets available at woodenshoe.com
Wooden Shoe Tulip Farm
33814 S Meridian Rd, Woodburn, OR 97071
Due to our cool spring and wild weather, the 39 th annual Tulip Festival will be extending our Festival into the first week of May, with a new end date of May 7.
This year continues to teach us, allows us to grow as a family and farm. When we set our dates and released tickets, we assumed we would be nearing peak bloom back on April 8th. As of right now our fields are at approximately 30% bloom, and we expect peak bloom to be the last week of April and into early May.
Hours will be Monday-Friday 9a-6p; Saturday-Sunday 8a-7p.
Our family looks forward to welcoming you to our 39th annual Tulip Festival to experience the beauty and create new memories. We have millions of beautiful tulips for our guests to enjoy on our family farm.
All admission, both day and season tickets are available online only. No tickets will be available on-site. We will be limiting the number of guests each half hour in order to minimize traffic and allow for a better experience for you to enjoy our tulip fields.
New this season is our Family Farm Tour. Hear from the family that started it all and learn what goes into growing our stunning tulips. Tickets for this can be purchased in advance and online only.
On the weekends we will have our crafters marketplace. Weather permitting enjoy hot air balloon tethered flights, steam tractors, and additional kid's activities including bounce houses, slides and trampolines.
For guests over the age 21, enjoy a Wine Tour through our tulip fields for an additional cost, tickets available in advance and online only. These go fast so buy early.
"It has been an amazing 39 years of growing tulips for thousands of visitors to see. We are excited to continue the tradition and open our family farm to the public yet again. Opening is no easy task. With lots of hours of preparation, our farm transforms into a space to create memories and enjoy the beauty of the tulips. We couldn't do it without our visitors, and most importantly our amazing staff." Co-owner and founder Barb Iverson.