2023 Original Practice Shakespeare Festival | Free, 25 Shakespeare Plays in 2 Months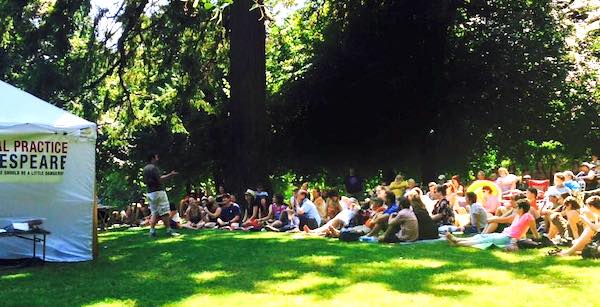 OPSFest brings no-cost Shakespeare to parks all over the Portland Metro area. The company uses the original practice techniques of Elizabethan England: limited rehearsal, scrolls in hand, audience interaction, and an onstage prompter!
———————
Related Portland Events & Info
———————
From press release:
Original Practice Shakespeare Festival
Summer 2023
More info: opsfest.org
The sun is staying out later and later, and that can only mean one thing: Midsummer Midsommer is right around the corner! Join us Thursday, June 22nd at the summit of Mt. Tabor for our annual romp through A Midsommer Nights Dreame to ring in the summer solstice.
But Midsummer Midsommer is just the start! Performances are spread out over two months, all across the Portland area!
JUNE
Thurs, 6/22 – ​9PM: A Midsommer Nights Dreame @ Mt Tabor Summit
Fri, 6/23 – 7PM: Macbeth @ Luuwit View Park
Sat, 6/24 – 7PM: Measure for Measure @ Lents Park
Fri, 6/30 – 7PM: Winter's Tale @ Cathedral Park
JULY
Sat, 7/1 – 7PM: Romeo and Juliet @ Cathedral Park
​Sun, 7/2 – 7PM: Richard II @ Cathedral Park
Thurs, 7/6 – 7PM: The Tempest @ Laurelhurst Park
Fri, 7/7 – 7PM: Two Gentlemen of Verona @ Laurelhurst Park
Sat, 7/8 – 7PM: As You Like It @ Laurelhurst Park
Sun, 7/9 – 7PM: Henry IV, pt 1 @ Laurelhurst Park
Wed, 7/12 – 11AM Midsommer Abridged @ Gateway Discovery Park
Thurs, 7/13 – 7PM: Julius Caesar @ Laurelhurst Park
Fri, 7/14 – 7PM: Antony and Cleopatra @ Laurelhurst Park
Sat, 7/15 – 7PM: Loves Labour's Lost @ Laurelhurst Park
Sun, 7/16 – 7PM: Henry IV, pt 2 @ Laurelhurst Park
Thurs, 7/20 – 6:30PM: Romeo and Juliet Abridged @ Pio Pio Park, Beaverton
Fri, 7/21 – 7PM: All's Well That Ends Well @ Irving Park
Sat, 7/22 – 7PM: Twelfe Night @ Irving Park
Sun, 7/23 – 7PM: Henry V @ Irving Park
Thurs, 7/27 – 7PM: Taming of the Shrew @ Irving Park
Fri, 7/28 – 7PM: King Lear @ Irving Park
Sat, 7/29 – 7PM: A Midsommer Nights Dreame @ Irving Park
Sun, 7/30 – 7PM: Henry VI, pt 1 @ Irving Park
AUGUST
Thurs, 8/3 – 7PM: Comedie of Errors @ Cully Park
Fri, 8/4 – 7PM: Much Adoe About Nothing @ Washington Park Amphi
Sat, 8/5 – 7PM: The Tragedie of Hamlet @ Washington Park Amphi
Thurs, 8/10 – @7PM: Cymbeline — FIRST NIGHT! @ Mt Tabor Amphitheatre
Fri, 8/11 – 7PM: Othello @ Mt Tabor Amphitheatre
Sat, 8/12 – 7PM: Merry Wives of Windsor @ Mt Tabor Amphitheatre
Sun, 8/13 – 7PM: Richard III @ Mt Tabor Amphitheatre
Sat, 8/19 – 7PM:Romeo and Juliet @ Veterans' Park, Sherwood
Thurs, 8/24 – 7PM: Apprentice/Intern Showcase @ Mt Tabor Amphitheatre
Fri, 8/25 – 7PM: The Tempest (The Gentlethem's Show) @ Mt Tabor Amphitheatre
Sat, 8/26 – 7PM: Antony and Cleopatra (The Gentlewomen's Show) @ Mt Tabor Amphitheatre
Sun, 8/27 – 7PM: Macbeth ​(The Gentlemen's Show) @ Mt Tabor Amphitheatre