ShanRock's Triviology Presents Clash of the Trivia Titans @ Cruzroom Annex | Prizes
From our sponsors: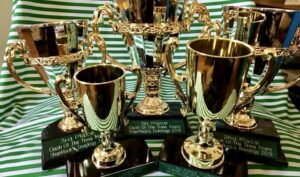 The Clash of The Trivia Titans 2022!
February 27, 2022
5PM | $40 per team; max team size = 5
More info: shanrockstrivia.com
Cruzroom Annex
2314 NE Alberta St, Portland, OR 97211
This is the Super Bowl of trivia; the Oscars of pub quizzery…there will be one team to rule them all! Everyone is invited to compete in this annual two-tiered Triviology tournament for trophies, prizes, and glory! The biggest prize the overall champions will receive is a free, private, customized quiz which ShanRock will host in your home, at your work, or for your favorite non-profit organization. Teams will also vote on their Favorite Foes, Best Bartenders, and Favorite Venue, so there are many treasures to be won! Any inquiries may be sent to [email protected].
5PM Registration
5:30 Olympian Open Quiz
(all non-Titans compete; champions become Wild Card seed for Titans!)
7:30 First set of trophies and prizes awarded!
8 Titan Invitational Quiz
(only Titans, teams with 7+ wins over the past year, compete!)
10:00 Final trophies and prizes awarded!