2022 MeWe Metaphysics & Wellness Fair in NE Portland | 45 Readers, Healers and Vendors, 20 Talks
From our sponsors: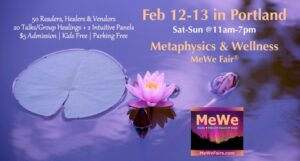 MeWe Metaphysics & Wellness Fair
February 12-13, 2022
11am-7pm
$5
More info: Facebook
DoubleTree by Hilton Portland
1000 NE Multnomah St, Portland, OR 97232
Enjoy 45 Readers, Healers and Vendors + 20 Talks at our IN-PERSON MeWe Metaphysics & Wellness Fair for Energizing Body Mind Heart & Soul in Portland, OR! Everyone is welcome!
11am-12pm Each Day – Intuitive Panel with Audience Q&A
12-7pm Each Day – 2 sets of Free Talks (included with admission)
11am-7pm – MeWe Metaphysical & Wellness Fair
***All attendees must wear masks per OR state mandate for the entire time they are in the venue (except for when briefly eating or drinking).***
Psychics • Channels • Shamanic Sessions • Sound Healing • Akashic Records • Tarot • Mediumship • Dream Readings • Intuition • Eye Reading • Jewelry • Medical Intuition • Crystals • Reiki • Theta Healing • Bodywork • Archangels • Oracles • Spirits and Guides • Astrology • Hypnotherapy • Reflexology • Spirituality and much more!
ALL ARE WELCOME * PARKING FREE
In our INTUITIVE PANEL @11am-12pm EACH DAY, a selection of our Practitioners will offer free readings/healings (included with admission) in an informal panel format, answering questions from the audience. This is a great way to sample our practitioners – having them answer your question and hearing them answer questions from others. Arrive on time to get your question in!
The Fair + Talks will continue until 7pm.
At this Fair, Enjoy these Readers, Healers and Vendors:
Shamanic/Psychic Readings & Clearings with Alethea Devi
Intuitive Healings Sessions, Relationship Healings, Chakra Clearing & Aura Healing with Andrea Firpo
Intuitive Body Energy Integration & Massage with Aylin Llona
Vibrational Sound Therapy with Chaz of Sound Crystal Vibrations
"Traditional Chinese Medicine with Psychic Medium Cheri"
Vibrational Attunement Sessions with Daniel Steinmetz
Color Energy Healing & Oracle Card Readings with DeBorah Beatty
Animal Communication & Intuitive Readings with Denise Dunlavy
Gentle Acupuncture for Anxiety by Be Well Holistic Health with Dessa Bingley
Tarot with Dominoes Readings & Reiki with Eclectic Mystic Dylan Cameron
Spell Candles, Bottles, Incense, & More with Emerald Rose Quartz
Fall Prevention with Quit Falling and Ingrid Borland
Chiropractic Care & Therapy with Jake Neuman
How Past Lives Impact Careers, Families & Close Relationships by NorthWestMystical
Mother Earth Orgone EMF Protection Devices with John Thompson
Crystals & Crafts from The Moonlights Lust
Fairly Traded Latin American Art with Karen Fura
Fairy Hair with LaNae LaCourse
Intuitive Eye Readings & Body Psychology Coaching with Laureli Shimayo
Tarot Card Readings with Luna Supreme
ROYAL DIVINE REIKI Minerals, Crystal, Tools & Jewelry
Organic Mushroom Supplements & Jewelry with Melody David
Herbal Remedies & Metaphysical Supplies with Pi'ilani Afuvai
Laser Reiki with Raina of Rainbow Butterfly Reiki
Transpersonal Intuitive Readings with Robert Zakian
Feng Shui Products & Mini Consults with Sandra Jeffs of Finesse Feng Shui
Psychic Energy Readings & Quantum Field Repairs with Sanela
Psychic Readings with Amazing Psychic Sue
Pendants in Stone, Ceramic, Metal with Sue Ploeger of Silk Road Trading Company
Medicine-bags, blessing-jars, candles, fairy-houses with Summer Lang
Crystals, Metaphysical Items & Leather Journals with Teena Kunkel
Psychic Readings by Clairvoyant Vivian
More to come!
$5 Admission includes Intuitive Panel, Talks and parking (the parking lot is very large but limited – come early). Kids are FREE (all ages). $20 max per family. FREE after 5pm. Please pay at the door.
Sessions available at booths. Each Practitioner sets their own fees, often lower than their private sessions.