ShanRock's Triviology Presents 2 Nights of Eerie Queries: 2022 Halloween Trivia! | The EastBurn Public House & The Waypost, Horror Films, Terrifying TV, Costume Contest
From our sponsors: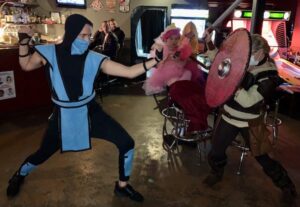 Eerie Queries: Halloween Trivia!
October 30-31, 2022
Sunday 5PM at EastBurn (1800 E. Burnside)
Monday 7PM @ The Waypost (3120 N Williams Ave)
$5 per team; 5 person max per team
More info: shanrockstrivia.com
Once again it is our time, fellow creatures of the night! Let us celebrate Halloween with drink, disguise and queries of darkness. Gather your familiars to conjure answers concerning horror films, terrifying TV, spooky books, and Halloween culture. $5 per skeleton crew is the entry fee, and the most learned combatants as well as the wearer of the most wondrous costumes shall be rewarded for their efforts! You may either descend into the inner sanctum of East Burn or enter the gates of The Waypost to challenge your fellow horror fiends. Choose wisely.