Peacock Lane Portland Christmas/Holiday Lights Display | 2022 Schedule & Information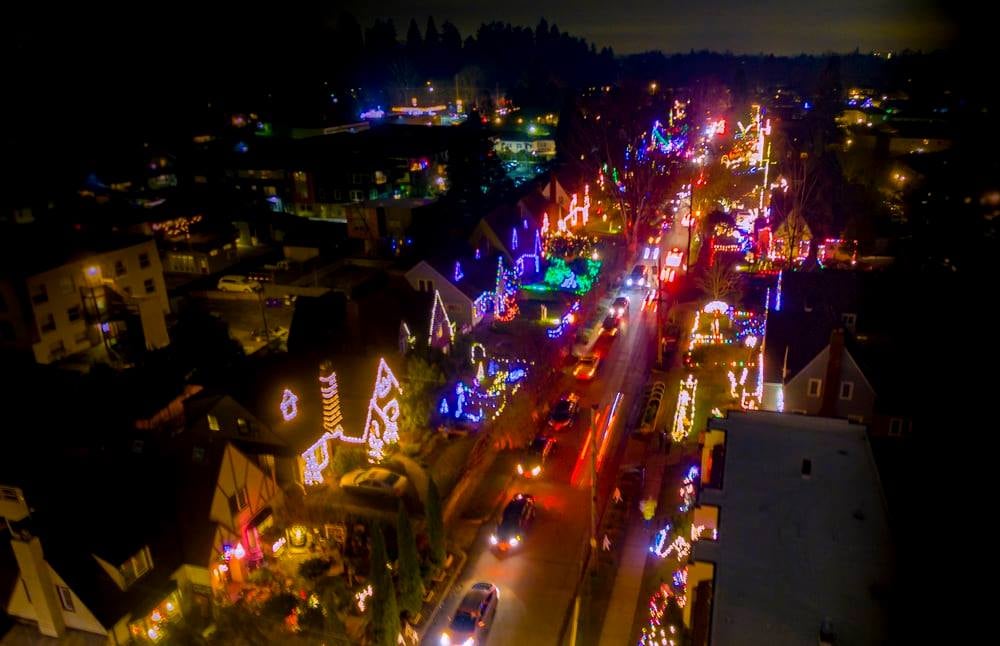 Residents of Southeast Portland's Historic Peacock Lane are once again planning their legendary light displays. Lights will be illuminated December 15-31.
————
Related Portland Events & Giveaways
————
From press release: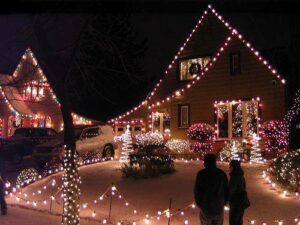 Peacock Lane
December 15-31, 2022
6-11PM
Car-Free Dec 15-17
More info: peacocklane.org
Peacock Lane
Between SE Belmont & SE Stark
It's the most wonderful time of the year again, and the residents of Peacock Lane are happy to share that they will be displaying their lights from December 15th – December 31st.
We are also excited to bring back the car-free nights on December 15, 16, and 17!
We look forward to seeing you all soon and can't want to hear your cheer and see your joy.
Happy Holidays Portland!
The Peacock Lane Experience
Since 1932, each house on this little street located in Southeast Portland has been decorating for Christmas. The houses mostly Tudors are adorned with creative light displays that include nativity scenes, rotating Christmas trees, and stunningly life-like replicas of Santa, Frosty, The Grinch, and a wide variety of colorful characters to bring festive joy to the holiday season for Portlanders.
Transportation and Parking
Traffic can become quite heavy in the area during the lights season.
Visitors to Peacock Lane are encouraged to view the lights by foot, if possible, for the best experience. Utilize free street parking several blocks away or public transportation (TriMet buses 15, 75, and 20 have stops within a few blocks; http://trimet.org/go/cgi-bin/plantrip.cgi).
Please be respectful of our neighbors when parking in the area.
Note: Do Not park in Walgreens lot; they maintain their lot for their customers only
Frequently Asked Questions
With vehicle traffic expected to be heavy, stick to the sidewalks, don't attempt to walk in the street itself.
It's not safe, and it'll make the drivers turn very Grinch'y , very quickly!
We recommend driving through because if past years are any indication, the sidewalks will be packed with hundreds, if not thousands, of people.
There is no charge to see the lights. And you should not be asked for donations or anything "monetary" when on the Lane.
Vehicle traffic will be heavy, plan to spend some time in traffic
There are no public restrooms
There is no special parking area set up. It's all on-street parking, and we ask that you please be considerate of our neighbors – for example, don't block driveways even if it's "Just for a few minutes."
Walgreens will tow if you park in their lot and aren't a customer.
The lights start on the 15th at 6pm. We do not light up earlier, as it would cause traffic jams almost immediately