O Christmas Tea: A British Comedy @ Newmark Theatre in Downtown Portland | A Rollicking Holiday Spectacular for All Ages, Complete and Utter Fun
From our sponsors: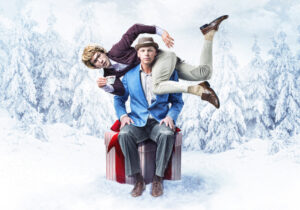 O Christmas Tea: A British Comedy
November 28, 2021
3PM & 7:30PM | $19-$44 | All Ages
More info: jamesandjamesy.com
Newmark Theatre
1111 SW Broadway, Portland, OR 97205
Fans of Monty Python, Mr. Bean, and Dr. Seuss… Grab your teacups!
The holiday season is fast approaching and, after nearly two full years away from audiences, 3-time Impresario Award Winning British comedians James and Jamesy are leaping back onstage. Their celebrated holiday comedy, O Christmas Tea plays Portland's historic Newmark Theatre on November 28.
"After 20 months away from the stage, we are beside ourselves—both literally and metaphorically—to be reunited with our audiences, and to again feel the buzz that only the magic of live theatre can bring," explained Aaron Malkin (James), the taller, less-hirsute half of the celebrated duo.
The time away, due to pandemic restrictions on live entertainment, has reinforced not only the passion the duo has for its shows, but also the importance that humour plays in our lives, and the camaraderie that can be built within audiences.
"The Christmas season is the time of year when we are encouraged to dream big, embrace imagination, and celebrate child-like excitement for magic and merriment," says Jamesy (Alastair Knowles) the quirky half of London's 3-time Impresario Award-winning duo.
O Christmas Tea is rich with wordplay, comic physicality, and cleverly crafted interactive elements reminiscent of classic British pantomimes. However, it is James & Jamesy's boundless imagination and endearing chemistry that creates the extraordinary magic of this unique festive experience.