2023 Winter Music Festival @ Milwaukie Elks Lodge | 2 Stages, 2 Dance Floors, Drinks, Food, Featuring Sugaray Rayford & More!
From our sponsors: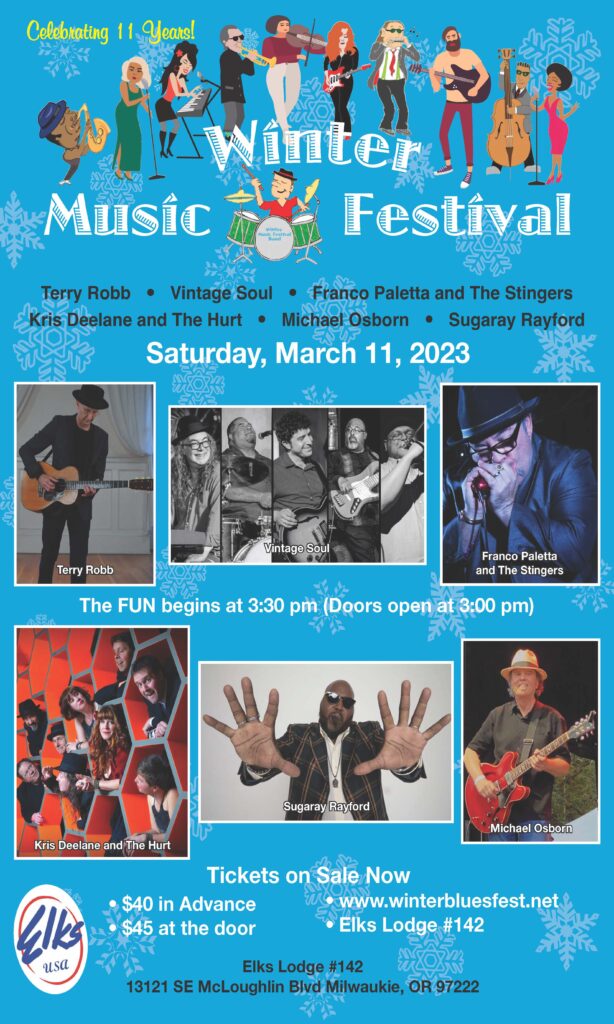 Winter Music Festival
March 11, 2023
Doors 3PM, Show 3:30PM
$40 ADV, $45 Doors | All Ages
More info: winterbluesfest.net
Milwaukie Elks Lodge & Ballroom
13121 SE McLoughlin, Milwaukie
Starting with a chat over a kitchen table wishing there was a music festival during the dreary wet months, Winter Music Festival is now in its 11th year.
This year's event is at the Milwaukie Elks Lodge & Ballroom, which offers two stages, large dance floors, 3 bars and food menu, on-site parking and is across the street from the new MAX Orange line and bus stops.
Winter Music Festival, has several tables throughout the venue, the ballroom is reserved only.  The festival will have raffle and silent auction items from jewelry, to outdoor baskets, to lots of wine to help our charities in Children and Veteran Charities.
Sugaray Rayford – This year's headliner is Sugaray Rayford. Sugaray just won the B.B. King Entertainer of the year and Soul Blues Artist of the year. (For 2 straight years). Combining classic soul melodies with funky $ & B grooves, raw blues power and mashed up with modern sensibilities brings a sound that's undeniably fresh and inspired. His live shows are a party. Some conversations may be had, and Some conversations may be had, and some self-reflection may occur, but at the end of the day, people leave feeling a sense of joy and togethernes
Kris Deelane & The Hurt – Portland's Old School/New School Soul extravaganza brings you Kris' originals plus Stax/Motown/Atlantic soul hits and rarities from the 60's and 70's. This 9-piece band is led by powerhouse vocalist Kris Deelane and includes several Oregon Music Hall Of Fame recipients and CBA Muddy Award winners. With her dancing backup singers – "The Ladyparts", plus horn section ‐ it's all here.
Franco Paletta and The Stingers – Franco with his strong vocals and his harmonica influences with sounds with Sonny Boy Williamson, Paul Butterfield, James Cotton to mention a few, gives him a unique "Franco" sound. Franco has shared the stage with Jim Mesi, Peter Dammon, Terry Robb, Doug Rowel, Robbie laws and many more.
Terry Robb – who is opening our show, has his signature fingerpicking style earned him international fame. He has incorporated elements from Delta blues, ragtime, country swing and jazz that builds his unique sound. 2017 received the Muddy Award for Lifetime Achievement award and 2020 Blues Music Award for his latest album, Confession My Dues.
Michael Osborn – was the lead guitarist for 13 years with John Lee Hooker, and his song Spellbound was featured on Hookers Album and won 1998 Grammy Award. He has backed, recorded or played with Bonnie Raitt, Albert Collins, Karen Lovely, Guitar Shorty, Robert Cray, Bill Rhoades, Curtis Salgado to name a few. He has been nominated by the Cascade Blues Association for best blues guitarist. And once for the cd release of Touch tone.
Vintage Soul – Vintage Soul brings a well-seasoned mix of blues, funk, r&b and soul to the table, stirred up like gumbo, served with authenticity. Backed by one of Portland's most iconic rhythm sections who've been the go-to unit with countless regional and touring artists for over three decades, drummer Brian Foxworth and bassist Ben Jones, Louisiana piano man Steve Kerin, and guitarist Chance Hayden. For this special show, we are adding trombonist Kyle Molitor to the mix.