2022 Wooden Shoe Tulip Festival Open Through Mother's Day Weekend | 40 Acres of Flowers, Wine Tasting, Kids Fun & More!
From our sponsors: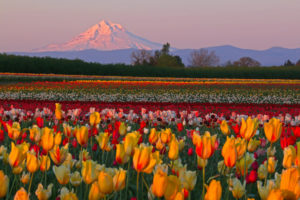 Wooden Shoe Tulip Farm Tulip Fest
March 18-May 8, 2022
Monday through Friday: 9am – 6pm
Saturday and Sunday: 8am – 7pm
Tickets available at woodenshoe.com
Wooden Shoe Tulip Farm
33814 S Meridian Rd, Woodburn, OR 97071
April 21 Update: Tulips love cold weather like we have had this spring and the flowers are hanging on for a great show.  For this reason, we will be extending our Tulip Festival one week through Mother's Day, May 8 th .  This is only the second time in 38 years we have done this but it would be a shame to close with so much color still on display in the field.
It's time to celebrate family and create new memories. The beauty of the Wooden Shoe Tulip Festival is back for all to enjoy for the 2022 tulip season.
All admission, both day and season tickets can only be purchased online and not purchased at the gate. We will be limiting the number of guests each hour in order minimize traffic and allow for a better experience for you to enjoy our tulip fields.
Our family looks forward to welcoming you to our 38th annual Tulip Festival to experience the beauty and color of our fields. This year we have 40 acres of beautiful tulips for our guests to enjoy on our well-spaced 200-acre property.
We are happy to be bringing back many of the activities that both adults and kids have enjoyed in the past. For kids we will have the duckie races, horse swings, and cut-out displays. Our tour train ride through the tulips is back.
On the weekends we will have our crafters market place, and wooden shoemaker demonstrations. Weather permitting enjoy hot air balloon tethered flights, steam tractors, and additional kid's activities including bounce houses, slides and trampolines.
For guests over the age 21 enjoy a farm wine tour through our tulip fields each weekend for an additional cost, tickets available online only.
"The last couple of years have been something we never imagined could happen, but they did. For many of us we have paused to reflect on what is truly important. In that reflection, is the discovery that friends and family are the true hidden treasures of our life. Our focus this year at our 2022 annual Tulip Festival is to celebrate families and we invite you to enjoy the beauty of our flowers with those that compliment your life." Co-owner and founder Barb Iverson