2022 Portland Adult Soapbox Derby | All Ages Shoebox Derby, Schedule, Photos

Always the third Saturday in August, Portland Adult Soapbox Derby is back August 20, when you can see dozens of coaster cars powered only by gravity, whimsy, and attitude at Mt. Tabor Park.
————–
Related Portland Events & Info
————–
From website: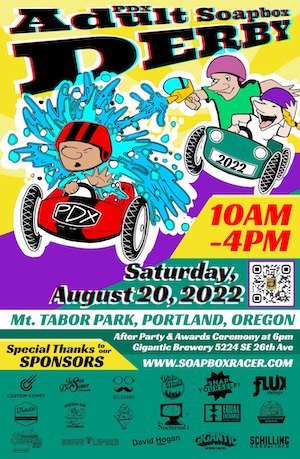 Portland Adult Soapbox Derby
August 20, 2022
10AM-4PM | Free | All Ages
More info:pdxshoeboxderby.com
Mt. Tabor Park
SE 60th Ave &, SE Salmon St, Portland, OR 97215
We are thrilled to announce that this year's derby has the green light!   Many of the events that are the backbone of Portland's unique culture have decided to move forward with their events this summer and we definitely wanted to be one of them.  While Covid has certainly changed the landscape of how things look on an everyday basis and while this year's Derby will not be without its challenges we have had a few years to plan and are hoping to have a successful and fun filled Adult Derby this year. We have lots of new exciting plans in the works and can't wait to see what y'all come up with after a few year's off.
As usual the date for our event remains the third Saturday in August which this year is August 20th. The event will run from 10-4 for the public and will be held on Mt. Tabor.  We will have an after party and awards ceremony after the derby in a location that's yet to be determined.
Photos