2022 FREE Huckleberry Festival @ Bingen, WA | Beer Garden, Wine, Live Music, Pies, Ice Cream, Kids Fun & More!
From our sponsors: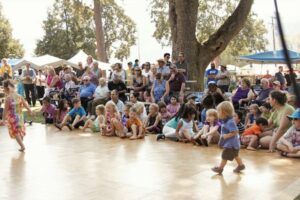 2022 Huckleberry Festival
September 9-11, 2022
Friday 5-10PM
Saturday & Sunday 10AM-5PM
FREE | All Ages
More info: huckleberry-fest.com
Daubenspeck Park
401-413 W Humboldt St, Bingen, WA
Fresh baked Huckleberry pies, Huckleberry ice cream and many other Huckleberry items.
Featuring beer garden w/ wine from AniChe Cellars in Underwood, Wa, bratwurst, vendors, live entertainment & dance floor all weekend!
Festival is in shady Daubenspeck Park on the Northshore of the Columbia River Gorge.
Saturday's parade moves along Hwy 14/Steuben St to Walnut St and Daubenspeck Park. Find a seat on the sidewalks of Steuben between Walnut and Maple.
Schedule
FRIDAY, September 9, 2022
5:30P: Opening Ceremonies / Presentation of the sash to
Grand Marshall Betty Barnes
6P Entertainment: Center Street Band
8P Headliner Band: Super Escandalo
SATURDAY, September 10, 2022
11A: Huck Fest Parade
Noon: Presentation to Betty Barnes from City of Bingen at the Main Stage
Noon-3PM: Free Kids Games
1-2P Entertainment: Tillinghast
2:15-3:30P Entertainment: Chicken S#!t Gamblers
3:45-4:30P Entertainment: Megan Alder
4:45-6P Entertainment: Funkinela
6-7P Entertainment: The Rascos
7-8P Entertainment: Richie The Reptile Man (We realize this is late, but the reptiles and Richie do not do well in the heat of the day)
8-11P Headliner Band: Fortunate Sons
SUNDAY, September 11, 2022
10-11A Sunday Church Service in the Park ~ Everyone is welcome! Led by Grace Baptist
Noon Entertainment: Bruce Baugher
1P: Entertainment Harmony of the Gorge
2-4P Entertainment: Willie & Nelson