2021 Wooden Shoe Tulip Festival | Reduced Capacity, Wine Tasting, Food Carts, Safe Outdoor Fun & More!
From our sponsors: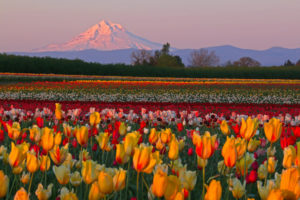 Wooden Shoe Tulip Farm Tulip Fest
March 19-May 2, 2021
Monday through Friday: 9am – 6pm
Saturday and Sunday: 8am – 7pm
Sunrise Entry: 5am – 7am
Tickets available at woodenshoe.com
Wooden Shoe Tulip Farm
33814 S Meridian Rd, Woodburn, OR 97071
The beauty of the Wooden Shoe Tulip Festival is back for all to enjoy safely for the 2021 tulip season.
Wooden Shoe Tulip Farm looks forward to welcoming you back in 2021 to experience the beauty and color of the tulip fields. They have 40 acres of beautiful tulips for guests to enjoy, which consists of two 20-acre fields well-spaced to allow for social distancing. In total they have 80 acres for guests to spread out and enjoy.
To ensure a pleasant and safe experience for all they will be implementing COVID-19 protocols. All employees and vendors will be wearing masks. They ask that guests ages 5 and older follow current state mandates and wear a mask when on property and observe social distancing guidelines of six or more feet of separation. They have strict sanitation procedures on the property as guest health and safety is a top priority.
New this year is a touchless ticket process, requiring that all tickets both day tickets and season passes be bought online and not purchased at the gate. They are honoring all 2020 tickets purchased during the 2020 festival. In addition, they will be limiting the number of guests each day in order to follow state guidelines and to allow for plenty of room for social distancing. Seven days prior to a visit date they will release additional tickets for purchase while adhering to COVID-19 state guidelines.
"We are so thrilled to be able to invite guests to experience the color and beauty of our tulip fields this year. 2020 was a challenge for everyone and we want people to come out and enjoy the outdoors and all the lovely tulips" according to Karen Iverson Bever.
Hot air balloons are back for 2021!🎉
We are so excited to be able to host both tethered and non-tethered hot air balloons this 2021 tulip season. Safety and protocols will be in place for COVID-19 on all flights!
A reminder that all flights are weather and wind dependent. Balloons can only fly in favorable conditions for the safety of all.
Tethered hot air balloon flights will be available Friday-Sunday mornings (weather permitting) with @illflyawayballoonadventures 🌷
Regular balloon flights will be available through @portlandroseballoons at sunrise throughout the entire season!
Interested in flying? Visit the link in here or reach out to the balloonists listed above to learn more!