2020 Mondo Croquet World Championships @ Westmoreland Park Sports Fields | Free, Croquet w/ Bowling Balls and Sledgehammers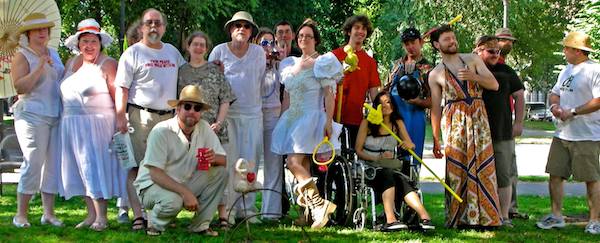 Get your balls banged at this weekend's Mondo Croquet World Championships in SE Portland. Bring out your finest in Face Covering Fashion; this year there's a prize for the best presentation!
——————–
Related Portland Events & Info
——————–
Mondo Croquet World Championships
August 2, 2020
Noon-3PM | Free
More info: Facebook
Westmoreland Park Sport Fields
2216 SE Lambert St, Portland, OR 97202
There's nothing quite like the satisfaction that comes with the sound of a sledgehammer plonking against a fine bowling ball as you roll through that wicket.
Face coverings!  Show off your best!  Show your best presentation and bring home the prize.
Bring a bowling ball and a sledgehammer.  Don't worry if you don't have, we've got plenty of extras to loan out
You'll enjoy yourself more if you're dressed appropriately in lawn whites, or Mad Hatter gear, or simply appropriately inappropriate.  Peruse some of our photos for ideas.
Bring along something to share for the picnic and something cold to drink.
…and you might want a chair.
It's a smashing time.  Tell your friends!  Taunt your enemies!