Portland Winter Light (non)Festival 2021 | Two Weekends of FREE, Outdoor Winter Art Activity
The Portland Winter Light Festival (PDXWLF) is Portland's premier outdoor winter art activity that transforms, illuminates and animates Portland's nighttime urban landscape. This weekend & next, you can safely view light installations across the city!
—————–
Related Portland Events & Info
—————–
From Press Release: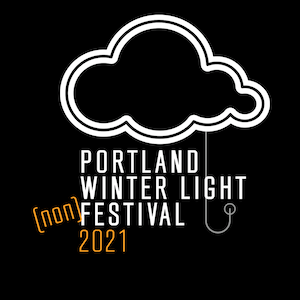 Portland Winter Light (non)Festival 2021
February 5-6 and February 12-13, 2021
6 pm – 10 pm unless otherwise noted
Free
More info: pdxwlf.com
Celebrating its 6th year, the Portland Winter Light Festival returns Friday in a brand new way. Taking on an entirely new form to safely reflect our current pandemic reality, this beloved annual tradition has been re-imagined from a centrally located light festival to a series of smaller art installations throughout the entire city, expanded from three nights to two weekends. A map of all sites is available on the organizer's website. Activities are being promoted as the 2021 Portland Winter Light (non)Festival.
Art installation sites range from a boat dock in St. Johns to a private residence in Milwaukie, with the largest concentration of installations located in downtown Portland, centered around Pioneer Courthouse Square. Installations will take the form of architectural lighting, pop-up window displays, projection mapping, and more. For the first time in the festival's history there will be no installations at OMSI or at the Eastbank Esplanade, a move that organizers hope will help minimize opportunities for crowds to gather.
 
Selected installations include:
"Magic Spaces" by Chris Herring, and Larry Yes, a series of large-scale lighting, and video installations across downtown Portland
"Don't be so Hard on Yourself," an inflatable brain by artist collective Black & Gifted, Dave Shirkhani, hosted at ZGF Architects
"Phosphorescent Fossils," glow in the dark dinosaurs by Mike Bennett downtown at the 10Y Building
"Disco Bug" by Tyler FuQua Creations, a life-size VW Bug covered in mirrors with reactive lighting, hosted at Peloton Apartments on N. Williams Ave.
"Astral Tide", large-scale video mapping by Amy Meyer with street murals by Portland Street Art Alliance, hosted at the Nova building in SE at the Electric Blocks
"Kaleidoscopic Canopies", a lighting installation by Mayer/Reed at Oaks Amusement Park
The expanded timeline and decentralized footprint will allow guests more space and time to view installations, minimize crowding, and allow for physical distancing while still celebrating light and art during the darkest time of the year. Touch-free installations will be presented in windows, storefronts, and public spaces throughout the city.
Organizers request that anyone viewing the outdoor art engages in appropriate safety protocols. Guests are required to wear a mask at all times, observe social distancing, and it is strongly recommended that people travel with their households only. In order to engage with the community, guests are invited to participate by decorating their own homes and neighborhoods, lighting their bikes, or wearing lighted costumes.
"This past year has demonstrated that we all need art, connection, and community more than ever," says Executive Director Alisha Sullivan. "When we approached local businesses, organizations, and artists about moving ahead with this year's experience, we weren't sure what the response would be — but we were amazed by the positive reaction. It's clear that everyone is craving a sense of placemaking and civic engagement. We're honored to bring some bright light to our city just when we need it most."
Founded in 2016 by the Willamette Light Brigade, the festival has established itself as a premier regional attraction for artists and visitors due to dazzling and dynamic tech-based art installations, fire sculptures, and a family-friendly atmosphere.