2022 Winter Music Festival @ Milwaukie Elks Lodge | 2 Stages, 2 Dance Floors, 7 Big PNW Acts Acts
From our sponsors: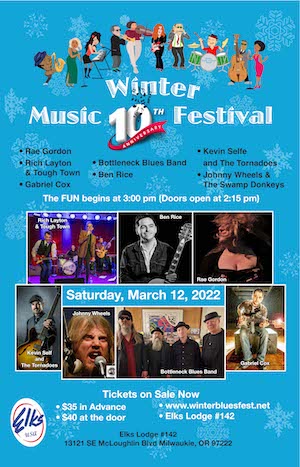 Winter Music Festival
March 12, 2022
Doors 2:15PM, Show 3PM
$35 ADV, $40 Doors | All Ages
More info: winterbluesfest.net
Milwaukie Elks Lodge & Ballroom
13121 SE McLoughlin, Milwaukie
Starting with a chat over a kitchen table wishing there was a music festival during the dreary wet months, Winter Music Festival is now in its 10th year.
In the last decade, the Winter Music Festival has showcased talented and award winning acts from all over the United States, while supporting local charities. The special 10th anniversary show will put the spotlight on the award-winning and touring talent that call the northwest home and will be performed in honor of music friends who have passed.
This year's event is at the Milwaukie Elks Lodge & Ballroom, which offers two stages, large dance floors, a full service bar and food menu, on-site parking and is across the street from the new MAX Orange line and bus stops. In addition, there will be silent auctions available.
The 2022 local line-up is dedicated to the best of the northwest. Blues belter Rae Gordon is a multi-award winning vocalist who placed 3rd in the International Blues Challenge in Memphis, Tennessee with her band and has charted with original music played nationally and internationally. Texas transplant Rich Layton and his band Tough Town are a high octane swamp rock,country, rockabilly and honkey tonk group with a signature sound that takes the audience for a ride. The Bottleneck Blues Band is made up of some of the best talents in town and was voted Best News Blues Act by the Cascade Blues Association. Kevin Selfe and The Tornadoes is led by captivating story teller and passionate performer Kevin Selfe, who has been electrifying audiences nationwide. Another transplant, this Virginia native made fans locally immediately upon landing in Portland. Salem based Gabriel Cox is a singer/songwriter who has released three critically acclaimed albums and has sold copies worldwide. He blends elements of rock, blues, country and folk and his music has been featured on commercials and he has opened for many national and regional artists including Robert Cray. Award-winning and multi-Blues Music Award nominee Ben Rice blends the sounds of American Roots music together to create his own sound. He has toured around the world and is known for his stunning guitar work and thoughtful songwriting. He was also a two-time finalist in the International Blues Challenge. Johnny Wheels & The Swamp Donkeys make fast fans when they spared their gritty gospel of blues and harp and at the International Blues Challenge finals. The musicians dedicate their performances to two people who were instrumental in the local music scene while they were alive and will be missed. Jay Lawhon was a beloved behind-the-scenes music engineer who was an important part of festivals and events throughout Oregon and Washington and worked with the Winter Music Festival for nine years. Musician and artist Chris Hamm spent his time off the stage drawing scenes he saw which included countless musicians and bands in and around town. His artwork is a beloved part of many musicians lives and his talent proudly displayed on many walls.
The charity this year is the Wichita Center for Family and Community. This organization provides a food pantry for families that live in the North Clackamas School District and offer a clothes closet for students and their families. schools. Organizations supported in the past have been C.H.A.P. (Children's Healing Arts Project), the Oregon Food Bank and United By Music North America
For those attending the festival from out of town, there are a number of lodging opportunities nearby, including the Milwaukie Inn, Econo Lodge and Kings Row in Milwaukie, Best Western Rivershore in Oregon City and Holiday Inn Express in Gladstone. There is also dry camping available at the Lodge.