2022 Original Practice Shakespeare Festival | Free, 25 Shakespeare Plays in 2 Months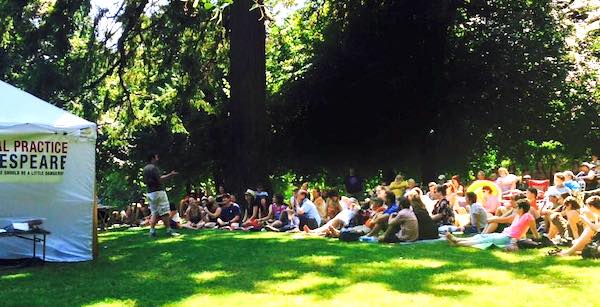 OPSFest brings no-cost Shakespeare to parks all over the Portland Metro area. The company uses the original practice techniques of Elizabethan England: limited rehearsal, scrolls in hand, audience interaction, and an onstage prompter!
———————
Related Portland Events & Info
———————
From press release:
Original Practice Shakespeare Festival
Summer 2022
More info: opsfest.org
The sun is staying out later and later, and that can only mean one thing: Midsummer Midsommer is right around the corner! Join us Tuesday, June 21st at the summit of Mt. Tabor for our twelfth-annual romp through A Midsommer Nights Dreame to ring in the summer solstice. And, as always, YOU choose the cast! Show up early to see some of your favorite OPS actors campaigning for their favorite faeries, frolicking lovers, or ffff…Theseus. Pretend that one started with an f. Voting starts at 8 PM, with curtain at 9.
Warning: This performance will not be suitable for children.
But Midsummer Midsommer is just the start! We have 30 performances spread out over just over two months, all across the Portland area!
We're back with two more of Shakespeare's plays, bringing us to a whopping 25 different shows! Check out our first in-person performances of Richard II (July 24th @ 7 PM in Irving Park) and Antony & Cleopatra (August 5th @ 7 PM in Irving Park). We've also got our second-annual Apprentice/Intern Showcase (August 21st @ 7 PM in the Mt. Tabor Amphitheatre), featuring our immensely talented A/I company. And, as always, we conclude our season in the Mt. Tabor Amphitheatre with the Gentle Shows! This year, join us for the Gentlethems' Show, Romeo and Juliet, on Friday, August 26th. Then, on Saturday, August 27th, we present the Gentlewomens' Show, A Midsommer Nights Dreame. Finally, we conclude our season on Sunday, August 28th, with the Gentlemens' Show, Richard III.
See one, or try to catch 'em all! Pokemon's still a culturally relevant reference, right? Well, regardless, we'll see you there!
JUNE
Tues, 6/21 – ​9PM: A Midsommer Nights Dreame @ Mt Tabor Summit
Sat, 6/25 – 7PM: As You Like It @ Lents Park
JULY
​Fri, 7/1 – 7PM: Taming of the Shrew @ Cathedral Park
​Sat, 7/2 – 7PM: Julius Caesar @ Cathedral Park
Thurs, 7/7 – 7PM: Measure for Measure @ Laurelhurst Park
Fri, 7/8 – 7PM: The Life of Henry the Fift @ Laurelhurst Park
Sat, 7/9 – 7PM: Much Adoe About Nothing @ Laurelhurst Park
Sun, 7/10 – 7PM: Richard III @ Laurelhurst Park
Thurs, 7/14 – 7PM: Merry Wives of Windsor @ Laurelhurst Park
Fri, 7/15 – 7PM: King Lear @ Laurelhurst Park
Sat, 7/16 – 7PM: The Tragedie of Macbeth @ Laurelhurst Park
Sun, 7/17 – 7PM: Winter's Tale @ Laurelhurst Park
Thu, 7/21 – 7PM: Henry IV, pt 1 @ Irving Park
Fri, 7/22 – 7PM: All's Well That Ends Well @ Irving Park
Sat, 7/23 – 7PM: Two Gentlemen of Verona @ Irving Park
Sun, 7/24 – 7PM: The Life and Death of Richard II @ Irving Park
POSTPONED DUE TO HEAT – Thurs, 7/28 – 7PM: The Tempest @ Cully Park
Sun, 7/31 – 7PM: Comedie of Errors @ Elizabeth Caruthers Park
AUGUST
Thurs, 8/4 – 7PM: Loves Labour's Lost @ Irving Park
Fri, 8/5 – 7PM: Antony & Cleopatra FIRST NIGHT! @ Irving Park
Sat, 8/6 – 7PM: The Tragedie of Hamlet @ Irving Park
Thurs, 8/11 – 7PM: Comedie of Errors (Abridged) @ THPRD / Beaverton
Thurs, 8/18 – 7PM: The Tragedie of Othello @ Luuwit View Park
Fri, 8/19 – 7PM: The Tragedie of Romeo & Juliet @ Washington Park
Sun, 8/21 – 2PM: Twelfe Night (or What You Will) @ Mt Tabor Amphitheatre
Sat, 8/20 – 7PM: A Midsommer Nights Dreame @ Washington Park
Sun, 8/21 – 7PM: Apprentice/Intern Showcase @ Mt Tabor Amphitheatre
Fri, 8/26 – 7PM: Romeo and Juliet (The Gentlethem's Show) @ Mt Tabor Amphitheatre
Sat, 8/27 – 7PM: A Midsommer Nights Dreame (The Gentlewomens' Show) @ Mt Tabor Amphitheatre
Sun, 8/28 – 7PM: Richard III (The Gentlemens' Show) @ Mt Tabor Amphitheatre
September
Sat, 9/3 – 7PM: Henry IV, pt 2 @ Irving Park