2021 Original Practice Shakespeare Festival | Free, 23 Shakespeare Plays Performed at 10 Portland Parks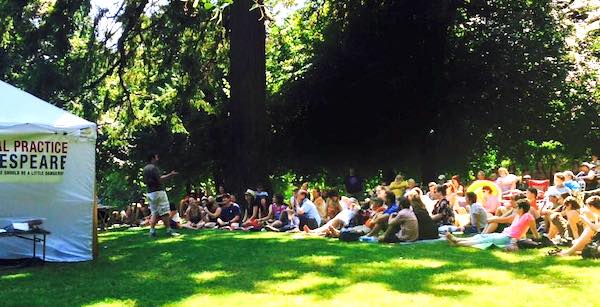 OPSFest brings no-cost Shakespeare to parks all over the Portland Metro area. The company uses the original practice techniques of Elizabethan England: limited rehearsal, scrolls in hand, audience interaction, and an onstage prompter!
———————
Related Portland Events & Info
———————
From press release:
Original Practice Shakespeare Festival
Summer 2021
More info: opsfest.org
OPS Fest is Back!
ORIGINAL PRACTICE SHAKESPEARE FESTIVAL (OPS Fest) is pleased to announce that the 13th season will take place in the parks (finally)! Last year's OPS Online Season was a wonderful way for the ever-ready-to-improv company to entertain during quarantine in 2020 by performing exclusively online, broadcasting to Facebook and You Tube.
This summer, OPS Fest starts the season on Monday, June 21 at 9pm with the audience favorite Midsummer Midsommer at the top of Mt. Tabor. They then jump directly into WIL Fest and perform all 23 of the Shakespeare plays in their lineup each weekend throughout the summer. Mask wearing is required by the Parks Dept at this time. We will keep you informed as to any changes. **If the COVID-19 pandemic causes public gatherings to halt temporarily, OPS Fest will perform the scheduled show(s) online.
Check in to https://opsfest.org to keep current!
2021 Masked Season
JUNE
Mon, 6/21
9PM: A Midsommer Nights Dreame
Mt Tabor Summit
Fri, 6/25
7PM: Two Gentlemen of Verona
Lents Park
———-
———-
———-
JULY
Sat, 7/3
7PM: Richard III
Cathedral Park
Thurs, 7/8
7PM: The Taming of the Shrew
Luuwit View Park
Fri, 7/9
7PM: The Tragedie of Hamlet
Luuwit View Park
Sat, 7/10
7PM: King Lear
Laurelhurst Park
Sun, 7/11
7PM: Comedie of Errors
Laurelhurst Park
Thurs, 7/15
7PM: Henry IV, pt 1
Luuwit View Park
Fri, 7/16
7PM: Much Adoe About Nothing
Cully Park
Sat, 7/17
1PM: Macbeth (Abridged)
Westside Shakespeare Fest
Sat, 7/17
7PM: All's Well That Ends Well
Irving Park
Sun, 7/18
7PM: Henry IV, pt 2
Irving Park
Thu, 7/22
7PM: Winter's Tale
Irving Park
Fri, 7/23
7PM: Measure for Measure
(FIRST NIGHT!)
Irving Park
Sat, 7/24
7PM: The Tragedie of Othello
Irving Park
Sun, 7/25
7PM: The Life of Henry the Fift
Irving Park
Thurs, 7/29
7PM: The Tempest
Elizabeth Caruthers Park
Fri, 7/30
7PM: The Merry Wives of Windsor
Elizabeth Caruthers Park
Sat, 7/31
7PM: Julius Caesar
Pettygrove Park
———-
———-
———-
AUGUST
Thurs, 8/5
7PM: Twelfe Night (or What You Will)
Laurelhurst Park
Fri, 8/6
7PM: As You Like It
Laurelhurst Park
Sat, 8/7
7PM: The Tragedie of Romeo & Juliet
Luuwit View Park
Sun, 8/8
7PM: Loves Labour's Lost
Laurelhurst Park
Thurs, 8/12 (Rescheduled to August 20)
6PM: Comedie of Errors (Abridged)
Gateway Discovery Park
Fri, 8/13 (Rescheduled to August 28)
7PM: The Tragedie of Macbeth
Laurelhurst Park
Sun, 8/15
7PM: A Midsommer Nights Dreame
Mt Tabor Amphitheatre
Fri, 8/27
7PM: Romeo and Juliet
(The Gentlemens' Show)
Mt Tabor Amphitheatre
Sun, 8/29
2PM: Twelfe Night (Abridged)
(The Gentlethems' Show)
Laurelhurst Park
Sun, 8/29
7PM: Loves Labour's Lost
(The Gentlewomens' Show)
Laurelhurst Park