What's The T? Portland's Only LGBTQ Trivia Night – Virtual Edition with Lady Phallus! | Free, Prizes, Mondays @ 7p via Zoom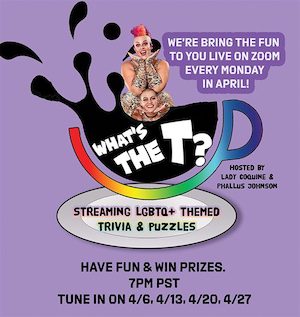 What's The T? Trivia Night Monday
Monday Nights April – May 2020
7p | Free
More info: Facebook
What's The T (Portland's ONLY LGBTQ TRIVIA NIGHT) has gone virtual and is inviting you to strengthen your brain muscles from the comfort of your own home!
Join us every Monday in April at 7pm PST on ZOOM for FREE foolishness!
The incomparable Lady Coquine and Phallus Johnson will be your hosts for the evening, guiding your team through all things gender-bending, sapphic, flamboyant, triumphant, and revolutionary! We won't just have trivia- there will be pictionary, charades, and other playful things!
AND – each Monday will feature one guest performance from drag, burlesque and circus stars from across the nation!
The game is free, but there's still chances to win prizes, such as virtual fitness classes! We award 5 prizes per show!
Join us April 13th, April 20th and April 27th at 7PM PST. Game will be played on Zoom, link posted on our Facebook page and Instagram. Remember, it's FREE!