Save 25% Off Tails & Trotters Easter Ham! | Order Online, Available for Delivery or Portland Curbside Pickup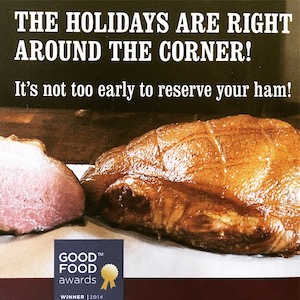 25% off Easter Ham!
More info: tailsandtrotters.com
Tails & Trotters
525 NE 24th, Portland, OR 97232
Tails & Trotters is offering its award-winning whole-muscle applewood smoked hams at a 25% discount this Easter!
Sweetheart Ham – 2.5-3# very lean ham from the sirloin tip
Inside Ham – 4-6# lightly marbled ham, from the inside round (available in half portions)
Outside Ham – 8-10# marbled ham with fat cap, from the outside round (available in half portions)
Bone-in Half Ham – 12-14# bone-in ham
All $9/lb.
Orders can be phoned or emailed for curbside pickup, or $20 flat-rate shipping to all OR & WA addresses.