Maizee Mae's Vintage & Collectible Market @ DoubleTree Hilton | 50+ Vendors, Jewelry, Clothes, Furniture, Lighting & More!
From our sponsors: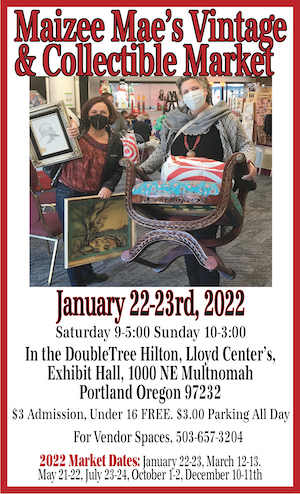 Maizee Mae's Antiques & Treasures Flea Market
January 22-23, 2022
Saturday 9AM-5PM
Sunday 10AM-3PM
$3 | All Ages
More info: maizeemaesantiques.com
DoubleTree Hilton, Lloyd Center Exhibit Hall
1000 NE Multnomah, Portland
Join us for fun shopping and treasure hunting! This market has something for everyone! Usually with more than 50 vendors selling all kinds of vintage and antique items; jewelry, clothes, toys, kitchen, kitsch, glass, furniture, military, lighting, signs, cast iron, posters, records, books … even some crafters and the best hotdogs and burritos around!
Open Saturday, January 22 from 9AM-5PM and Sunday January 23rd from 10AM-3PM. Only $3 admission and kids under 16 are free! Free local parking or discounted for our shoppers to $3 all day in the Hilton's private lot. Great food vendor!
Vendor spaces still available call 503-657-3204. Masks are required according to state mandate. Social distancing around each vendor's booth.
Mark your calendars to not miss any upcoming market our 2022 dates are: January 22-23, March 12-13, May 21-22, July 23-24, October 1-2, December 10-11th!
If you miss a market and need to shop our retail store is open everyday from 10-6:00 at 621 Main Street, Historic Downtown Oregon City, Oregon 97045!