October Last Thursday Art Opening @ The Goodfoot Pub & Lounge | Featuring Works From 2 Artists, Support Local Art
From our sponsors: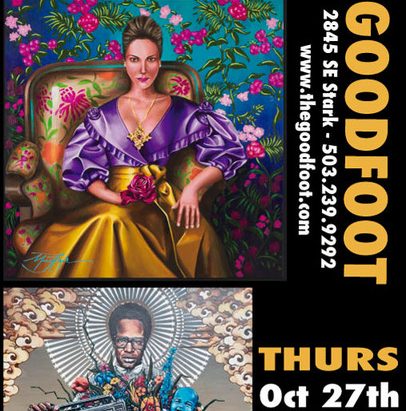 Last Thursday Art Opening
October 27, 2022
5PM-2AM | Free
More info: thegoodfoot.com
Proof of Vaccination required
Goodfoot Pub & Lounge
2845 SE Stark St., Portland, OR 97214
Join us for our monthly Last Thursday Art Opening. This month we feature works by Mayfair and Zak Gere. All paintings are available for purchase. Support local art!
Zak Gere was born in Portland, Oregon, in 1978. As a self-taught artist, he has been independently showing and selling art since 1999. Zaks paintings vary greatly in subject and style from photo realistic portraits to highly stylized figures and landscapes. Zak also sculpts with a variety of materials but has focused on wire sculpture which he builds in to incredibly detailed solid forms
Mayfair is a Southern California native who moved to the Pacific Northwest in 2010. Originally a graffiti artist, Mayfair made the transition into using other mediums onto canvas in 2004. With Graffiti art being his roots he incorporates the Graffiti and Hip Hop culture into his canvases. Mayfair is also right at home with fine art and models his technique and inspirations from the great masters. After transitioning to using mainly oils on canvas, Mayfair has evolved into interchanging his upbringing of Graffiti into the Fine Art arena. Since his move to the Pacific Northwest, Mayfair has been hard at work making a name for himself in the local art scene.
COVID requirements: Entrance to The Goodfoot requires proof of vaccination. Be prepared to either show a vaccine card, photos of your card, or an online vax card via your health provider's app or portal. The name on the card must match the name on your ID.