Part Time
Applications have closed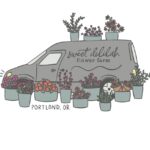 Website Sweet Delilah Farm
Sweet Delilah Farm is looking for a part-time, skilled farm manager to help run our flower farm for the 2023 season as we transition in to our new farm space. The farm manager will primarily oversee daily operations including seeding schedules, planting, harvesting, post-harvesting, and other farm related tasks.  This position requires a strong, practical knowledge of agricultural skills and farm management, and a passionate commitment to providing quality floral products to our customers.
Primary Responsibilities Include: 
Implementing, and adjusting (as needed), an existing crop plan of the fields. This includes: succession schedule, bed preparation, transplanting and direct sowing. Irrigation, organic pest and disease management, soil health, and weed control Staff the flower truck at Farmers Markets on a regular or occasional basis. Maintain high energy and fast paced work environment for all aspects of day to day farming.
Skills: 
At least 1 year experience working on a farm or in agriculture. **This is required to apply
Self-motivated, cooperative, and flexible
Excellent Communication Skills
Comfortably able to life a minimum of 50lbs
Clean drivers license and reliable transportation for commuting to and from the farm
Comfortable with problem-solving, decision-making, developing and working within budgets
Excellent organizational skills, attention to detail and follow-through
Sense of ownership and entrepreneurial spirit
Interest in collaboration on all farm activities and generating new ideas for growth
It is important that this person affirms all identities, especially those within the LGBTQ community.
Terms:
This position is approximately 15-20 hours/week. Longer hours may be required during busy times and events
Pay is $18/hour
Ability to work weekends if needed is a must
Start date is estimated in mid February 
Contractual commitment for the season will be required
Let them know you found it on PDX Pipeline!