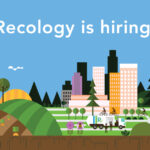 Website Recology Oregon Recovery - Metro South
Recology is now HIRING for a Traffic Control (Spotter) position in Oregon City! Generous Pay and Benefits.
THE ROLE
Under close supervision, directs incoming and outgoing tipping area traffic in a safe and efficient manner according to established policies and procedures. Must be able to work assigned shift. Great entry level position for a person with the required knowledge, but no required work experience.
RESPONSIBILITIES INCLUDE, AND ARE NOT LIMITED TO:
Directs incoming and outgoing tipping area traffic in a safe and efficient manner according to established policies and procedures.
Must be able to work assigned shift.
Ensures safe & compliant operation and management of all vehicles in tipping area.
Conduct Load Check program.
Directs incoming and outgoing tipping area traffic.
Keeps public and commercial traffic separate.
Directs vehicles to park at a safe distance from other vehicles.
Maintains separate tipping area from other trash vehicles, for all end-dump trash trucks.
Keeps tipping table clear of large debris.
Reports all hazardous materials to Supervisor for proper documentation and disposal.
Prevents scavenging of any kind from the tipping table..
Talks to customers  answers questions or directs to proper person.
QUALIFICATIONS
Any combination of education and experience that would likely provide the required knowledge, skills and abilities is qualifying.  A typical way to qualify is:
Principles and practices of job site safety, potential job hazards, and state and local regulations.
Common procedures and general Company operations, following established methods and standing instructions.
Basic Computer programs.
High school diploma or GED preferred.
Skills and / or Ability to:
Promote the WASTE ZERO philosophy by making the best and highest use of all resources.
Work under pressure, handle stressful situations and maintain flexibility.
Assertiveness as necessary to manager situations as they occur.
Maintain high levels of activity or productivity; operating with effectiveness, and determination over extended periods of time.
Understand safety rules, operating and maintenance instructions, and procedure manuals.
Consistently build knowledge and expertise about current job.
Communicate effectively with peers, supervisors and customers.
Communicate on a two-way radio or similar device.
RECOLOGY BENEFITS MAY INCLUDE:
Paid time off and paid holidays.
Health and wellness benefits including medical, dental, and vision.
Retirement plans (Employee Stock Ownership Plan, 401(k) with match).
Annual wellness incentives.
Employee Assistance Program (EAP).
Educational assistance.
Commuting benefits.
Employee referral program.
SUPPLEMENTAL INFORMATION
Reasonable accommodations may be made to enable individuals with disabilities to perform the essential functions of this job; and pursuant to applicable law, we will consider for employment qualified applicants with criminal records. It is important that you provide accurate information on the job application, inaccurate information may cause delays in the processing of your application and/or may disqualify you as a candidate.
Recology is an equal opportunity employer committed to supporting an inclusive and diverse work environment where employees are valued, heard, and provided development opportunities. Qualified applicants will receive consideration for employment without regard to race, color, religion, sex, sexual orientation, gender identity, national origin, citizenship, disability, protected veteran status, or any other basis that is prohibited by law.
This description is not intended and should not be construed to be an exhaustive list of all responsibilities, skills, effort, work conditions, and benefits associated with the job.
Let them know you found it on PDX Pipeline!