Public Technologies Specialist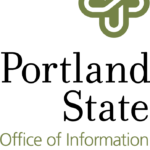 Website Portland_State Portland State University
Brief Description of PSU/School/Dept
Portland State University (PSU) seeks to enhance the intellectual, social, cultural, and economic qualities of urban life by providing access to a quality liberal education for undergraduates and an appropriate array of professional and graduate programs especially relevant to the Portland metropolitan area. PSU is located in beautiful, vibrant downtown Portland. Easily accessible by bike and public transit, PSU is surrounded by many restaurants, food carts, parks, and local businesses. We hope you will consider joining us and experience our motto in action: Let Knowledge Serve the City.
Position Summary
The Public Technologies Administrator coordinates the support and maintenance of software, desktops, and printers for lab and classroom environments, kiosks, and other public technology. They work collaboratively with Client Systems Administrations and Academic Technology Services (ATS) staff to facilitate the use of enterprise systems management and imaging tools and provide desktop deployment guidance and expertise to other ATS technicians. The Public Technologies Administrator also assists with printing services administration and serves as a member of technical project teams across OIT, lending experience, expertise, and a customer-focused perspective.
A day in your life may look like this: In the morning, catch up on unread emails, check the Printing and Public Technologies support queue for new requests and follow up on requests you're already handling. You might perform a printing system administration task, deploy a software package to a lab, troubleshoot a hardware issue or give a departmental IT admin some guidance on managing their computer labs. Our Field Technology Services team relies on you for technical expertise, so you'll keep an eye on Slack throughout the day and respond to their questions or direct them to the proper resource. Empowering people with information is an important part of your job, so you might spend time writing an article for our knowledge base or showing a student employee how to fix an issue in a computer lab. In the afternoon, you'll attend a project meeting where you'll provide a status update for your tasks and participate in a lively discussion about the project's details. After that, you might attend a joint team meeting, where you and other team members discuss issues, system changes, and process improvements with another OIT team. At the end of the day, you'll take another look at your existing issues, send out some questions or updates, and know that tomorrow will bring new challenges your way.
Summary of position duties: 
Public Computing System Administration (40%): Responsible for developing and maintaining most public access systems in labs, classrooms, and other public spaces on campus, deploying images, deploying software as needed to support academic operations, and hardware troubleshooting and repair.
Printing Services Administration (30%): Serve as the first point of contact for lab printing issues, and secondary point of contact for campus-wide printing, administering print services, addressing issues, bringing up new printing services, and staying up to date on enterprise printing strategies and features.
Support Field Technology Services (20%): Provide support and advice to Field Technology services student technicians for troubleshooting, computer imaging, and repairs, and addressing lab systems and classroom podium issues.
User Support and Consultation (5%): Provide consultative technical support and services to the campus community to ensure problem resolution, system/data access, and optimal system performance.
Other Duties as Assigned (5%)
Minimum Qualifications
This classification requires a basic foundation of knowledge in operating systems programs, maintenance, systems administration, and network systems that would normally be obtained through a bachelor's degree, preferably in computer science, engineering mathematics, telecommunications or a related technical field, or equivalent technical training and/or experience.
A successful candidate will have experience and knowledge in all of the following:
Strong technical knowledge of both Mac and PC operating systems.
Experience administering Windows and/or Mac OS endpoints using enterprise software deployment tools and techniques.
Experience with computer hardware configuration, deployment, and repair.
Experience supporting printers and multifunction devices.
Strong understanding of networking concepts, and configuring devices on various types of networks.
Familiarity with OS-level scripting for automation and configuration management (e..g Powershell, Bash, Python, etc.).
Strong ability to troubleshoot a variety of computer hardware/software issues.
Experience supporting workstations in a managed environment using systems management software (e.g. Microsoft SCCM/MECM, JAMF, LANDesk, etc.).
Preferred Qualifications
We ask our employees and applicants (that's you!) to align with our OIT Attributes for Success:
Coaching: you appropriately give, accept, and incorporate feedback from others.
Communication: you exchange information and ideas well, verbally and in writing; communication is an essential tool for productivity and strong working relationships in OIT.
Emotional Intelligence: you possess the capacity to be aware of, manage, and express your emotions; you handle interpersonal relationships with empathy and safety, enabling diverse types of people to work together.
Proactive: you recognize and initiate opportunities to take action and prevent potential problems or threats.
Teamwork: you identify with the larger organizational team and your role within it; you share resources, respond to requests, and support our organizational strategy.
Key Cultural Competencies
Creates an environment that acknowledges, encourages and celebrates differences.
Functions and communicates effectively and respectfully within the context of varying beliefs, behaviors, orientations, identities and cultural backgrounds.
Seeks opportunities to gain experience working and collaborating in diverse, multicultural, and inclusive settings with a willingness to change for continual improvement.
Adheres to all PSU policies including the policies on Prohibited Discrimination & Harassment and the Professional Standards of Conduct.
Environment Stewardship
Contributes to a culture of environmental stewardship, practices resource conservation, and actively works toward achieving long-term sustainability goals.
Total Compensation Range & Benefits Statement
The starting salary rate for this position will be between $24.99/hr and $29.99/hr. The starting salary may be negotiable above this range, however, it will be dependent upon the knowledge, experience, skills, and abilities of the chosen candidate, the budget of the hiring department, and approval from HR.
PSU's excellent benefits package includes 95% premium paid healthcare; a generous retirement and vacation package; and reduced tuition rates for employees, spouses, or dependents at any of the Oregon Public Universities. For more information about benefits, please visit https://www.pdx.edu/human-resources/benefits-overview.
Please visit the Total Compensation Calculator (https://www.pdx.edu/human-resources/psu-total-compensation-calculator) to see the added value of PSU's employee benefits.
Application Instructions
Apply to: https://jobs.hrc.pdx.edu/postings/39061
All Portland State University employees, regardless of work location, must submit either (1) Proof of Vaccination; or (2) have an approved medical or religious exemption, on their first day or employment. To read the full PSU vaccination policy, please visit: https://www.pdx.edu/policies/covid-vaccination.
Additional Application Instructions
Please submit a resume, cover letter, and 3 professional references with names, telephone numbers, and email addresses
Let them know you found it on PDX Pipeline!