Operations & Administrative Assistant
Part Time
Remote
Applications have closed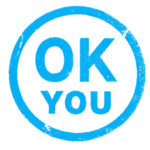 Operations & Administrative Assistant
OK You, Inc. 
We design creative experiences that engage youth and those who support them in using creative wellness practices to navigate big emotions and stay connected to their OK selves. Our free project and workshop guides are used by 60+ schools and youth-supporting organizations in Oregon and thousands more individuals across the country through our website. We also provide youth, family and professional development workshops.
This Role
As a small and nimble nonprofit that is always exploring new program possibilities, we work very closely as a staff to fulfill varied and changing tasks and goals. As our Operations and Administrative Assistant, you will be tasked with managing our data, relationships, internal and external communications, and other assigned operational tasks that aid us in working more strategically and thoughtfully with partners, donors, stakeholders and our communities. You will also be joining us at events, assisting with programs and projects, and running the occasional errand. 
Primary Responsibilities
The primary tasks of this role include: 
Database management
Communication with our community of staff, board, supporters and partners
Creating and maintaining systems, like materials archives, communications and workshop tracking, etc. to help increase efficiencies
Monitoring the general email box and responding to general queries
Processing donations and regular subscriptions
Assisting with deliveries and mailings
Supporting various outreach opportunities, both in person and remotely
Other responsibilities as assigned 
Qualifications 
The right candidate will be passionate about connecting with people around the power and creativity to support inner wellbeing and will bring the following skills: 
Attention to detail
Database management (familiarity with Bloomerang a plus)
Open and clear communication
Writing & research
Compassion & empathy
Interest/investment in our mission
An eagerness to learn & grow
A collaborative spirit
Experience with Canva and Google Suite
Familiarity with Quickbooks, Givebutter, and Zapier are a plus, but not required
Spanish-language fluency a plus, but not required 
Compensation
This is a part-time, hourly position compensated at $20/hour. Specific hours will be negotiated based on the needs of the organization, but on average this position will require approximately 15-20 hours per week. 
Remote Work Environment
OK You, Inc. does not currently, and may not in the future, have a bricks and mortar office. For this reason, any candidate must be willing and able to work from home and have the basic tools needed to do the work required. That being said, living near Portland with the ability to assist with in-person events, outreach, and meetings is desired. Additionally, a candidate with the use of a car is preferred. 
Equal Opportunity Employer
OK You, Inc. is an equal opportunity employer committed to an equitable and just work environment that supports all people, celebrates all voices and perspectives, and values all identities, races and genders. We are an organization that deeply values each other as people. We infuse our meetings with lightheartedness, fun, creativity and the chance to be genuinely ourselves. Members of our community who are BIPOC, differently abled, of diverse sexual orientations, gender expressions, identities and backgrounds are encouraged to apply. 
How to Apply
To apply, send an email, with cover letter, including specific call-out to your interest in this position, and a basic resume with previous work history, to [email protected]  no later than 5PM (PST) Friday, May 26. Please title your email: "Operations & Administrative Assistant."
Let them know you found it on PDX Pipeline!