Education and Community Organizer w/LGBTQ2SIA+ Org
Full Time
December 31, 2022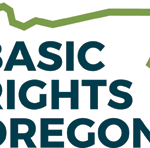 Website basicrights Basic Rights Oregon
Education and Community Organizer
Location: Oregon, USA
Basic Rights Oregon is an equal opportunity employer committed to a diverse, multicultural work environment. People of color, people with disabilities, and people of diverse sexual orientations, gender expressions and identities are encouraged to apply.
ABOUT BASIC RIGHTS OREGON
Basic Rights Oregon (BRO) is the state's largest grassroots organization dedicated to ending discrimination based on sexual orientation and gender identity. Founded in 1996 and headquartered in Portland, Basic Rights Oregon is a progressive, statewide nonprofit organization. For more information, visit www.basicrights.org.
POSITION OVERVIEW
This position is responsible for coordinating Basic Rights Oregon's Basic Rights Education Center scheduling, intake, and communications with prospective clients and working in conjunction with the larger Organizing Team to engage volunteers and community stakeholders in meaningful campaigns to advocate for LGBTQ2SIA+ rights and equality.
This is a collaborative, dynamic position with responsibilities that vary with the electoral cycle, community need, and the organization's strategic plan. For example, this person in this position may work with/in a local community where gender topics are being considered and are of relevance to a school board and then also provide a transgender 101 training to a government workplace within the same week. Public speaking, facilitation, project management, and logistics are key skills for any successful candidate. We are a small team with a big mission. The position will involve in-state travel. This is a full-time, bargaining unit position.
Key Responsibilities:
Basic Rights Education Center (BREC)
➢ Conduct workshops to deepen understanding of key racial justice, trans justice, LGBTQ2SIA+ youth and other pertinent issues as part of the program.
➢ Stay abreast of best practices of curriculum development for LGBTQ2SIA+ and equity topics to ensure BREC workshops and materials remain innovative and suitable to shifting needs.
➢ Act as primary account contact for BREC customers–responsible for aiding the customer in selecting the best training(s) for their needs, collecting pre-contract information, and coordinating with project manager to schedule trainings.
➢ Utilize existing administrative systems to track training outreach, contracts, invoicing, and relationship management.
➢ Coordinate assignment of internal and external assets and consultants for contract completion.
➢ Manage BREC consultant pool, managing the calendar and briefing staff/consultants on the needs of each client.
➢ Ensure timely reporting of project deliverables to finance and fund development.
Community Organizing
➢ In coordination with the larger Organizing Team and in response to community need, design and implement workshops to deepen community and stakeholder understanding of key racial justice, trans justice, LGBTQ2SIA+ youth, campaign design and more.
➢ Ensure accurate, complete, and timely data entry across platforms each week for complete constituent contact records and to assist in productive/successful outreach efforts; coordinate with the administrative manager on database hygiene protocols and maintenance in accordance with best practices and as directed.
➢ Build meaningful reciprocal relationships with organizations interested in doing LGBTQ2SIA+ equity work across Oregon and particularly outside of the Portland Metro Area.
➢ Coordinate and implement statewide campaign plans as directed by BRO, coalition partners, and other relevant stakeholders.
➢ Work as part of the BRO organizing team on volunteer engagement and fundraising, including phonebanks.
➢ Assist with constituent referrals and correspondence.
➢ Prepare written weekly and quarterly work plans and progress reports.
Desired Experience and Qualities
➢ Commitment to Basic Rights Oregon's mission and programs with knowledge of LGBTQ issues.
➢ Strong analysis of racial, transgender and LGBTQ justice principles and experience working with communities of color; transgender, genderqueer and gender non-conforming communities.
➢ Demonstrated ability to handle a variety of projects, to be detail-oriented and to problem-solve.
➢ Strong written and verbal communication skills; comfortable speaking in public with an energetic and engaging training style.
➢ Strong technology skills, including proficiency in Microsoft Word, PowerPoint, Outlook and Excel.
➢ A sense of humor and the ability to work joyfully in a fast-paced environment.
➢ Ability to travel, and have a flexible work schedule, including evenings and weekends.
➢ A state-issued drivers license is highly preferred as the candidate will need to drive to various locations throughout the state for work.
Physical Requirements
➢ Ability to sit at a desk for long periods of time.
➢ Ability to work at a computer for long periods of time.
➢ Preferred ability to drive.
Compensation and Benefits
Competitive salary, commensurate with experience, range $44,762.51-$57,915.20
For the 2022-2023 benefit plan year, medical, vision and dental health care provided with the employer paying 100% of the employee's monthly premium.
Paid time off includes 15 days of vacation 40 hours of paid sick time annually.
10 paid holidays annually.
TO APPLY:
Please send a cover letter and resume electronically to Janice Lorenzana at [email protected]. The subject line must include "Education and Community Org-[Your Name]" to be considered. This position is open until filled.
Previous applicants to Basic Rights Oregon are encouraged to reapply.
Let them know you found it on PDX Pipeline!